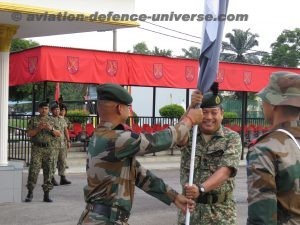 Kuala Lumpur. 30 APR 2018. Exercise Harimau Shakti 2018, between the Indian Army and the Malaysian Army commenced on 30 April at Wardieburn Camp, Kuala Lumpur with a brief and impressive handing over of troops ceremony. Lt Col Irwan Ibrahim, Commanding officer of the 1st Royal Ranger Regiment of Malaysian Army welcomed the Indian contingent and wished the Indian and Malaysian troops for a successful and mutually beneficial joint exercise.
 First phase of the two week long joint military exercise begin with the formal handing over of the Regimental Flag to the Malaysian Army signifying merging of the two contingents under one Commander.  First day also saw briefings to the joint contingent on Malaysian country brief, exercise settings and security aspects. The day ended with a keenly contested friendly Volley Ball match, which the visitors could finally snatch after a tiff competition. Both armies stand to hone their tactical and technical skills in counter insurgency and counter terrorist operations under the UN mandate. Due emphasis will be laid on increasing interoperability between forces which is crucial for success of any joint operation.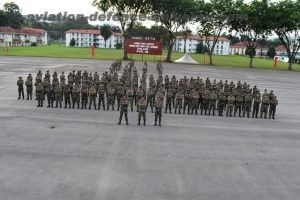 Exercise Harimau Shakti is a positive step in the bilateral relations between the two nations. The conduct of such exercises in future will enable mutual capacity enhancement and assist in building strong bonds of friendship and cooperation between India and Malaysia.