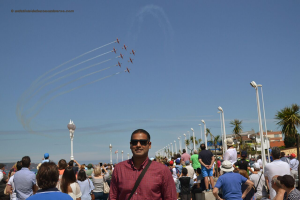 By Suresh Somu
Gijon,Spain. 24 July 2017. It was a bright sunny afternoon and the skies above Gijon in Spain thundered . No black clouds and no lightening, it were the colours of Spain which painted the skies. The city famous for its international Film Festival and International Piano Festival attracted aviators both professionals and enthusiasts to the sands of San Lorenzo. It was the twelfth Air Festival of Gijón which took off with Ultralights and Tampico light aircraft.
Later PAPEA the Airborne Accident Parachuting Patrol of PAPEA Military Parachuting School Méndez Parada, jumped from an AVIOCAR to land in batches, which not only attracted attention but also appreciation for their clockwork precision. Vintage aircraft took the breath away but not the eyeballs with its flight of the 1935 made Bücker, the oldest airplane and only biplane in the show.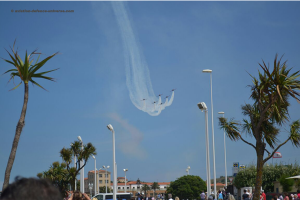 Special mention deserves the final break with the flag of Spain to scarcely 100 feet of the ground.
Swiss Air Force flew in a formation of 10 airplanes – 9 Pc-7 and a SUPERPUMA. Following with the classic birds the precious T-6 of the FIO, just arrived from Madrid that same morning, gave a touch of color and powerful noise of piston to the Festival. It was the turn of the "angels of the sea", Maritime Rescue; Helimer Cantabrian and CN-235 with an aquatic rescue number.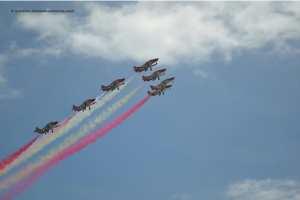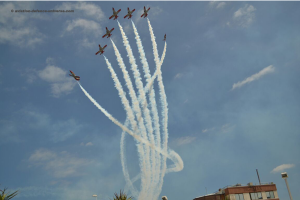 Two training EF-18 thundered over the bay. The demonstrator pilot carried out one of the best and most intense demos of how many are remembered at this festival, the public was stoned. Afterwards Firemen of Asturias 112 gave a touch of color with two Yellow Helicopters based on the Morgal. It was the turn of the purest aerobatic flight of the EXTRA 200, pure adrenaline at the controls of Jorge Macías with spectacular passes over the hill. Then the Belgian Air Force with its F-16 impressed with a mixture of smoke, noise and color, a plane really hard to get. It closed the Air Festival of Gijón the Patrol Eagle with a number always to the height of one of the best patrols of Europe.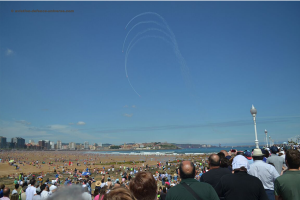 Europe's military pride A-400 M which was the sure shot entry at the show was missed hugely due to a last-minute problem which prevented it from taking off from Zaragoza.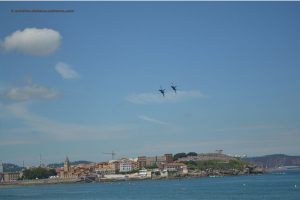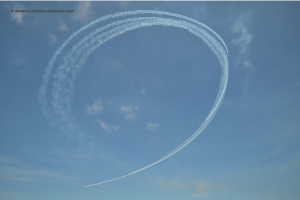 Carrusel ULM & Avionetas, CN 295 / PAPEA, PC 7 TEAM (Swiss Air Army) & Superpuma Display (Army Swiss Air), Bücker Bü 131, T-6 FIO, Maritime Rescue; AW 139 , CN 235, EF 18, FireFighters of Asturias 112, Extra 200 , F 16 and Eagle Patrol kept the audience enthralled.
---