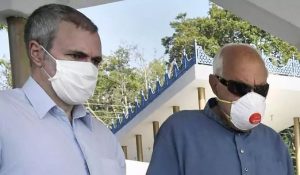 By Jai Kumar Verma
New Delhi. 16 October 2020. The interview given by, National Conference President and Member Parliament from Srinagar, Farooq Abdullah to India Today TV on 11 October 2020 erupted a major controversy as according to media reports he stated that "Whatever they are doing at LAC in Ladakh all because of the abrogation of Article 370, which they never accepted. I am hopeful that with their support, Article 370 will be restored in J&K". The 82 years old parliamentarian also criticised Prime Minister Modi for inviting Chinese president to India and hosting him in Chennai. He also pleaded Central government to start negotiations with Pakistan so that border skirmishes which are killing Kashmiris can be stopped.
While defending Farooq Abdullah the National Conference (NC) spokesperson declared on 12 October that he had not stated that Article 370 can be restored with the assistance from China. He also alleged that BJP had "completely twisted" his statement. The NC spokesman declared that "Our President articulated the people's anger over the abrogation of Article 370 and 35-A by Parliament on August 5 last year as he has consistently done in recent months. He emphasised that no one in Jammu and Kashmir was willing to accept these changes,". The NC spokesman further revealed that "Dr Abdullah never said that together with China we will bring back Article 370 as Mr Patra claimed at a media briefing in which he also misquoted some previous statements of Dr Abdullah." He alleged that "Sambit Patra has a habit of twisting words and using the bully pulpit of the BJP office to lie when it suits the political agenda of his party."
Sambit Patra the national spokesperson of Bhartiya Janata Party (BJP), held a press conference in BJP party office on 12 October on Farooq Abdullah's statement about restoration of article 370 of Indian Constitution. Patra claimed that Abdullah justified the Chinese onslaught by saying that the defanging of article 370 has annoyed communist China. Patra maintained that "Abdullah remarks are seditious and anti-national." The BJP leader claimed that by these comments Abdullah became a "hero in China". He further stated that it is distressing that a former chief minister of Jammu & Kashmir and sitting M.P. tries to ""justifies the expansionist attitude of China".
Patra also pointed out that Rahul Gandhi former President of Indian National Congress (INC) also issues such statements. In past when India made the surgical strike at Balakot, Rahul Gandhi became a hero in Pakistan by asking questions on the Balakot airstrike. The BJP leader recalled that Prime Minister Modi had not gone to attend the Beijing Olympics while Sonia Gandhi had attended the Beijing Olympics. Rahul Gandhi also stated few days back, that prime minister had gone in hiding and India has surrendered. Patra also remarked that Congress party while speaking against Prime Minister speaks in favour of Pakistan.
The BJP leader also quoted Farooq Abdullah's previous statement "Earlier, Farooq Abdullah said that if you go to Jammu and Kashmir and ask people if they are Indians, then people will say that we are not Indians."
In reality, article 370 was not abrogated, there were some important amendments in the article. On 5 August 2019 Union Home Minister Amit Shah proclaimed in Rajya Sabha that the government has scrapped the special status of J&K by amending the article 370. Rajya Sabha also passed the Jammu and Kashmir Reorganisation Bill same day by which the state was divided into two union territories i.e. Jammu and Kashmir and Ladakh. Article 370 was a temporary provision under which Jammu & Kashmir was exempted from Indian Constitution and was permitted to have its separate constitution. Article 370 also gave a special status to J&K and because of it the state had separate flag and penal code. Although the previous governments had not scrapped the article 370 but the clause 3 of the article gives power to President of India to amend the article. The present BJP government took advantage of the clause 3 and fulfilled its promise of scrapping of Article 370 of the constitution.
Congress Party which ruled the country for most of the time and had not abrogated the article 370, criticised the defanging of the article. Same way Article 35A which came out from Article 370 through a Presidential Order in 1954 also ended with Article 370. Article 35A gave power to state legislature to define permanent residents and also gave special privileges to the permanent residents.
Most of the major political parties of J&K and their leaders opposed the defanging of Article 370 as they were reaping several benefits out of it. Most of the leaders were detained after 5 August 2019. Farooq Abdullah was released on 13 March while his son Omar Abdullah was released on 24 March. Peoples Democratic Party (PDP) leader and former Chief Minister of J&K Mehbooba Mufti was released on 13 October after about 14 months detention. Just few hours after her release she issued a brief audio message in which she said that the struggle for restoration of whatever snatched by central government on 5 August 2019 will continue. She said in the audio that "Nobody among us can forget the day's robbery and humiliation". Both Farooq Abdullah and his son Omar Abdullah met Mehbooba Mufti at her residence on 14October.
Again, leaders of six political parties including Farooq Abdullah and Omar Abdullah of National Conference, Sajad Lone of Peoples Conference, Mohmmad Yousuf Tarigami of CPI(M), Peoples Movement leader Javaid Mir, Mehbooba Mufti of PDP and Awami National Conference leader held a two-hour long meeting at the residence of Farooq Abdullah on 15 October. The leaders of political parties have constituted an alliance to restore article 370 as well as the special status of J&K. The alliance would be known as People's Alliance for Gupkar Declaration.
After India defanged article 370 and bifurcated J&K, China's foreign ministry indicted India and stated that "Such practice is unacceptable and will not come into force". It also criticised India for "unilaterally changing its domestic law". China along with Pakistan criticised India in United Nations Security Council (UNSC) as well as at other international forums. Again, at the first anniversary of defanging of Article 370 Chinese Foreign ministry criticised India and mentioned that change is "illegal". However, this time India issued a rejoinder and clearly stated that China has "no locus standi" on this issue.
Congress leader Salman Khurshid has also supported Farooq Abdullah through twitter. He twitted that BJP must remember the words of former Prime Minister Atal Bihari Bajpai 'Jambhuriyat, Kashmiriyat, Insaniyat'. However, J&K Congress president Ghulam Ahmed Mir has not endorsed the views of Salman Khursheed. Mir mentioned that it is an internal matter of India and China was not a part of the Gupkar declaration, which was signed by prominent political parties of J&K on 4 August 2019. In Gupkar declaration all political parties declared that any modification or abrogation of Article 370 is unconstitutional and will be opposed by them. An important Congress leader Rajni Patil also asserted on 11 October that the people of J&K are unhappy with the policies of present government and demanded the restoration of statehood of J&K.
After the defanging of Article 370 from J&K the incidents of terrorism, stone-pelting, infiltration of terrorists, local Kashmiris joining the terrorist outfits, killings of civilians and deaths of security forces personnel are considerably reduced.
It appears that the general public of J&K are happy by the defanging of Article 370 but the political leaders, Islamic extremists, diverse terrorist outfits and Inter Services Intelligence (ISI) of Pakistan are unhappy although because of different reasons. All these forces may try jointly or separately to disturb the law and order situation of the state hence the security forces must be extra vigilant to curb the menace of terrorism from the state. The intellectuals, good intentioned NGOs, prominent citizens and security agencies should work in tandem so that the Sufi culture of the state is restored, Kashmiri Pandits can return back to their homeland, law and order becomes normal so that tourism which is the backbone of the state flourishes. Security forces should also try to curb infiltration of terrorists and if need be the retired security personnel can be allotted land at the borders which may help to curb the infiltration of terrorists.
(Jai Kumar Verma is a Delhi-based strategic analyst and member of United Services Institute of India and Institute for Defence Studies and Analyses. The views in the article are solely the author's. He can be contacted at [email protected])