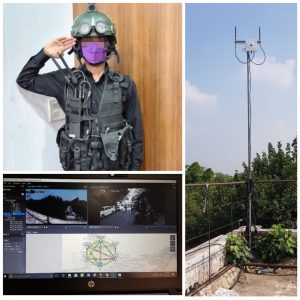 By Sangeeta Saxena
New Delhi. 21 September 2020. Defence industry in India is on a journey to project an India that not only fulfils the aspirations of the defence and security forces, but also stands at par with the foreign defence manufacturing. In the course of this transformation, while some changes are anticipated and planned, many are a consequence of market forces and larger global shifts. The evolution and maturing of this industry which has burgeoned in the last decade has the policy of Make-in-India which will eventually make an Atmanirbhar Bharat.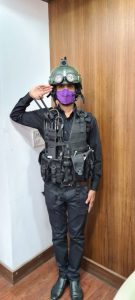 As a part of this drive, successful end user trials in a subterranean / underground and NLOS environment using MANET Mesh Radios were conducted for Indian paramilitary forces by Exicom Technologies India LLP. Domo Tactical Communications (DTC) radios live streamed 6 x dismounted Video (MOHOC) & Voice feeds from P4 Basement of a shopping mall to L2 (some 6 floors above) and to a Command Post 400m outside.
"Brij and Exicom displayed a successful demonstration to the paramilitary forces in Delhi. We are extremely proud of our Mesh Manet handheld system, made in Prime Minister Modi's Make in India initiative in partnership with DTC, UK. Today's result proves that Exicom's Tactical network is the one on which Indian Defence should show their trust in," informed Sandeep Agarwal, Founder & CMD Exicom Technologies.
Exicom Technologies (India) LLP designs and manufactures various models of IP Mesh Manet Radio and COFDM Video Streaming System in India at their facility in Mumbai under technical guidance of Domo Tactical Communication. Exicom exclusively uses OEM Core from DTC however fulfill's value addition criteria of Make in India.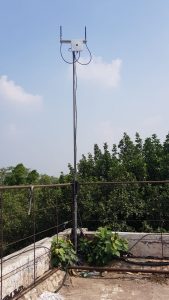 "This successful end user demo builds upon the successful partnership of DTC with Exicom Technologies and Brij Systems. DTC is extremely proud to work in partnership ship with both Companies, supporting the GoI's Make-in-India agenda" said Nigel Lee DTC VP International sales.
DTC technology powering Mission Critical, secure, tactical data comms and real-time shared Situational Awareness (SA) for Assault Teams and Special Operations. In India, DTC has come with Exicom Technologies India LLP under Make in India arrangement. Exicom is offering entire range of DTC solutions locally.
IP Mesh Manet SDR which are Handheld, Bodyworn, Aircraft Mount, Ship Mount, Ground Control Station, Drop boxes for repeater, Drone based repeaters, USV based repeaters and many more products are tailor made for the soldiers' needs at all tactical levels.
"Other than battlefield we can be helpful in Automatic Weapon Control System, Tank communications, Convoy communication, Long distance Drone Swarming, Long Distance tank swarming, Long distance boat and ship connectivity and many more. The applications are endless," informed Sandeep.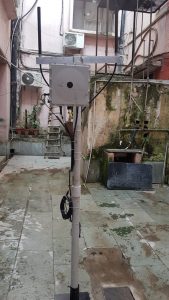 DTC's Mesh technology provides proven high-capacity multi-domain IP connectivity in challenging environments that sits seamlessly alongside existing public or private infrastructure. The ability to project a significant bi-directional capability into areas unreachable by existing technologies is tremendously powerful and can play a pivotal role in surveillance operations. DTC Mesh is a proven and flexible MANET (Mobile AdHoc Networking) solution which has successfully been deployed in the most adverse environments
Offered in two variants, Phase 4 which is the fourth iteration of DTC Mesh designed for use on a range of dedicated radio platforms and is available with 2 Watt and 5 Watt power options. Phase 5 is DTC's next-generation Mesh software designed for installation on both dedicated radio platforms and the multi-capability Software Defined Radio (SDR) as a software application. All Phase 5 platforms offer the benefits of standard Mesh but are also Multiple Input/Multiple Output (MIMO) capable of double data throughput.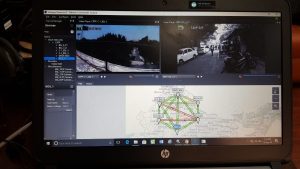 "Third-party testing has time and again proven the superior performance of DTC's Mesh system in Non-Line of Sight (NLOS) urban environments over other leading competitors. Recent leading-edge advances have provided significant capability enhancements through the introduction of Mesh Ultra technology and higher frequency bandwidth options. With channel bandwidths up to 20MHz and adaptive modulation up to 64QAM, DTC MeshUltra supports data rates of up to 87Mbps," says a statement of DTC's website.
These are an asset and a necessity in infrastructure protection, identifying and monitoring of terrorist threats, monitoring of serious crime, public order policing, intelligence gathering, maritime downlinks, battlefield situational awareness, Robotic and Autonomous Systems (RAS) including UAVs, UGVs and USVs and Connected and Autonomous Vehicles (CAV).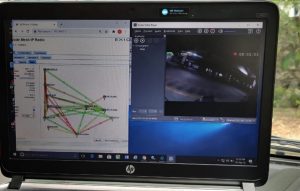 Exicom's mission is to be the preferred supplier of wireless communication solutions in urban, rural and remote environments linking hard to reach people, products and places. It's wireless communication systems are operating in over 200 countries. Our systems are used for many different applications in many different industry categories on every continent. From weather monitoring in Alaska to extending the PSTN in outback Australia, Exicom radios are the equipment of choice for many public and private organisations around the world.
Exicom Technologies manufactures customised solutions in the field of covert operations, surveillance and security under Make in India initiative. It deals with manufacturing of Video Airborne Downlink Equipment and Manet Mesh Data Radio. Exicom has already supplied customised Video Transmitters, Mesh Manet Radio to various security agencies including Defence. Exicom has the capability to produce customised solutions for Special Forces of Mil & Civil, Integrated surveillance solution. Video, Audio and Data based Command and Control links for land, Sea or Air (SWARM). After success stories abroad, Exicom along with its technology partner DTC is all set to match steps with Indian defence and security forces' needs.