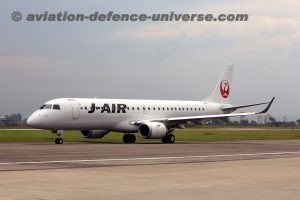 Singapore, 2 November 2017 – Embraer has delivered J-AIR's 10th E190 to the airline, bringing the total number of E-Jets operated by the Japan Airlines subsidiary airline to 27. The aircraft departed from
Embraer's facility at São José dos Campos on 27 October 2017 and arrived in Osaka Itami airport on 31 October 2017.
The first revenue flight of J-AIR's 10th E190 (JA250J) is scheduled for 6 November 2017 and will operate on flights from Osaka Itami to Hakodate and Osaka Itami to Aomori. These routes were served by E170s and due to growing passenger demand, the 95-seat dual class E190 has operated on these routes since the end of last month.
"J-AIR's E190 fleet complements their E170 operations – enabling the airline to sustainably enter and grow
new markets," said Cesar Pereira, Vice President of Embraer Commercial Aviation in Asia Pacific. "The
move to utilise the E190 with extra capacity on these routes reflects the dynamics of Japan's domestic
market and the focus on providing customers a premium experience on regional flights. Coupled with the
remarkably high service reliability of the E-Jets fleet at J-AIR, we are confident that our E-Jets will continue
to add strong value to J-AIR's operations."
"We welcome the 10th E190 to the J-AIR family and we look forward to expanding J-AIR's operations of the
E190 on domestic routes mainly from Osaka (Itami) and Tokyo (Haneda) to deliver greater customer
convenience and comfort to our customers" said Tetsuya Onuki, President of J-AIR. "The E190 fleet has
demonstrated a very high service reliability, enabling us to deliver on our on-time promise to customers."
J-AIR's first E190 started revenue flights in May 2016. By its twelfth month of operations, the E190 fleet
recorded a service reliability of 99.85%.
J-AIR's E190 fleet is based at the airline's Osaka (Itami) base and features a dual-class arrangement with
95 seats, including the well-received Class J (business class) seats, and Free Video Program services for
Wi-Fi devices.
Including J-AIR's 10th E190, there are 38 E-Jets currently in Japan, operated by J-AIR and Fuji Dream
Airlines.