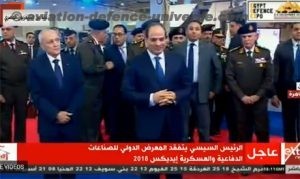 BY Team ADU
Cairo. 03 December 2018. President Abdel Fattah El Sisi inaugurated the 1st International Defense & Security Industry Exhibition "EDEX 2018"amidst tight security and expectancy. The show is the maiden effort by the Egyptian Armed Forces , which is seeing the participation of 373 major defence companies from 41 countries.
The opening ceremony was attended by Prime Minister Mostafa Madbouly, Defence Minister Mohamed Zaki and a number of other ministers.
Speaking at the event's opening ceremony, the defense minister said that President Sisi's sponsorship of this exhibition aims at delivering a message to the world that the defense and armament systems are the main pillars of peace and security and the fortress of stability for nations and peoples.
Zaki also welcomed the participating delegates in the exhibition, adding that this international exhibition is a great opportunity for world countries and companies manufacturing defense and armament systems to present the leading-edge military technology, exchanging expertise and developing ties in the military production domain.
The fair is showcasing the latest military and security technology, equipment and systems.The event is being organised in cooperation with the UK's Clarion Events, which organises defence and security exhibitions.
Spokesman for the Presidency Ambassador Bassam Rady had earlier stated that the exhibition will witness international and regional participation of companies international and Egyptian companies specialized in this field.
Rady stressed that the establishment of the exhibition confirms Egypt's position as a leading and effective country with the capacity to organize such high international military activities, which strengthens the role played by Egypt in the region and confirms its contribution to regional and international security and stability.
Military delegations from the United Arab Emirates, Oman, Sudan, France, Greece, United States, China, Russia, France, Germany, Italy and UAE are expected to be at the show.