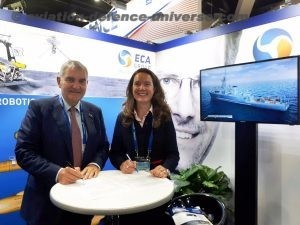 Paris. 11 October 2017. ECA Group and THYCON announce the signature of a Memorandum Of Understanding  to address the challenges of the Future Australian Submarine and other Defence programs.
ECA Group, the French company specialised in Subsea Robotics and Systems including tailor made solutions for submarine equipment's such as Power electronic cabinet (static variators, speed variators)silent electrical motors, steering gear console also being one of the world specialists for magnetic signature management systems.
THYCON is a major long term supplier to the Australian Department of Defence providing 50, 60 & 400Hz frequency converters, UPS, rectifiers and CCR equipment, as well as bespoke power quality solutions. Both the companies have decided to joint their skills in order to address the Future Australian Submarine Program and other Defence programs.
Together, ECA Group and THYCON offer an enhanced capability to fulfil the requirements of the world's critical defence needs, while ensuring sustainment of Australian projects over the long term is supported with local design, manufacturing and after sales care. This alliance brings together two great companies with many years of complementary expertise and experience.