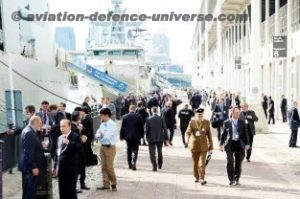 London. 09 September 2017. The global maritime community will convene in the capital this month for Defence and Security Equipment International and London International Shipping Week
London will strengthen its position as a hub for maritime business when the sector's leading experts and equipment manufacturers assemble in the city this September. They will be attending Defence and Security Equipment International (DSEI), held on the Thames at ExCeL London, and London International Shipping Week (LISW) which is spread throughout the City. Both events take place during 11 – 15 September.
Recent incidents across Europe have shown how terrorist attackers are diversifying their methods of inflicting harm on the public. The Thames-side location of DSEI enables a programme of live-action waterborne exercises from nine specialised vessels throughout the week, exhibiting the very latest developments in maritime capability. Named "Operation MARCAP", the scenario focuses on a Royal Marines team identifying, surveilling and boarding a suspect vessel under the cover of fire-support.
The event will welcome a selection of visiting warships from the Royal Navy, as well as vessels from the Belgian and Irish Naval forces.
Admiral Sir Philip Jones KCB ADC, First Sea Lord and Chief of Naval Staff, will be delivering two keynote addresses at DSEI. The first on Day Zero, Monday 11 September at the Maritime Capability Conference, within the topic of the Naval Service Contribution to the National Prosperity Agenda. The second as the opening keynote in the Naval Zone on Tuesday 12 September on the exhibition floor. The Maritime Capability Conference is co-hosted by the Royal Navy and the Department for Transport.
The Naval Zone will feature the latest maritime equipment including Liquid Robotics' Wave Glider, one of the most experienced ocean robots on the market. It is a platform that has revolutionised the exploration and understanding of oceans, providing persistent integrated, real-time surveillance from seafloor to outer-space. In Defence, WaveGlider is deployed for Anti-Submarine Warfare, Intelligence Surveillance Reconnaissance and Surface Vessel Detection. Admiral Sir George Zambellas, formerly the First Sea Lord of the Royal Navy, will highlight WaveGlider in his discussion of Changing Perceptions in Underwater Defence and Security: Respecting the March of Technology in the Naval Theatre on Tuesday 12 September.
Over 140 industry events will be held as part of LISW. Under an overarching theme of 'Tomorrow's Maritime World', LISW will provide the industry with a platform for announcing, discussing and debating important issues and opportunities for the future of shipping; as well as generating thought-leadership and innovation.
David Dingle, Chairman of Maritime UK, said: "LISW is a fantastic global platform to showcase the UK as a world-class maritime centre. We look forward to welcoming leading industry figures from across the world to LISW 2017".