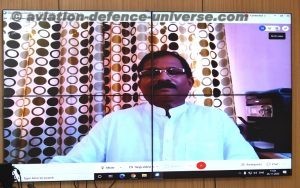 New Delhi. 26 November 2020. DRDO celebrates Constitution Day to commemorate the
70th anniversary of the adoption of our constitution. The most important part of the celebration was the reading of Preamble to the Constitution by DRDO fraternity. A webinar was organized by DRDO to mark the occasion.
MOS Defence Shripad Yesso Naik joined the webinar through video conferencing and delivered a talk on "Constitutional Values and Fundamental Principles of Indian Constitution". During the talk, he recalled the founding fathers of the constitution and said, "The constitution is not only a theoretical idea and it must be made important to the lives of individuals on each road, in each town, and each mohalla of our nation. It needs to be one way or another interface with their ordinary presence and make it more agreeable".
Many DRDO DGs, Directors, Senior Scientists and other senior officials joined the webinar through Video Conferencing.