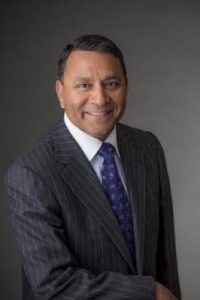 WALTHAM. 23 September 2016. The Board of Directors of Raytheon Company has elected Dinesh Paliwal as a director, effective immediately.
Paliwal, 58, is Chairman, President and Chief Executive Officer of Harman International a position he has held since 2007. Harman International designs and engineers connected products and solutions for automakers, consumers, and enterprises worldwide.
Prior to joining Harman, Paliwal spent 22 years with ABB Group, a $50 billion global energy and industrial leader, where he last held the dual role of President of ABB Group and Chairman and CEO of ABB North America.
"Dinesh is well-known for his customer focus and commitment to innovation, two values that have served as cornerstones of Raytheon's success for decades," said Thomas A. Kennedy, Raytheon Company Chairman and CEO. "We look forward to leveraging that expertise, as well as his deep understanding of international business, as we continue to execute our global growth strategy."
Paliwal earned a Master's degree in Engineering from the Indian Institute of Technology (IIT Roorkee). He also earned a Master's degree in Applied Science and engineering and a Master's degree in Business Administration, both from Miami University of Ohio.
Paliwal serves on the Board of Directors for Bristol-Myers Squibb Company. He also serves on the board of the Business Advisory Council of the Farmer School of Business, Miami University. He is a member of the CEO Business Roundtable, the U.S. India Business CEO Forum and the U.S. India Business Council (USIBC).