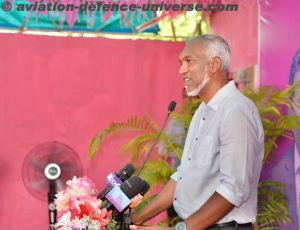 By Jai Kumar Verma
New Delhi. 04 October 2023. Maldives is all set to see a change of guard at its helm. And this new political scenario will also result into the island nation's changed diplomacy. Maldivian President Ibrahim Mohamed Solih of Maldivian Democratic Party (MDP) lost presidential elections in the second round and his rival Mohamed Muizzu, the mayor of the capital, Malé City of People's National Congress (PNC) which is the prime constituent of the opposition coalition won the election. The result was announced on 1st October. There are more than 282,000 eligible voters and the voters turnout was about 85 percent. There were about 165 international observers and monitors with overseas polling booths at Trivandrum, Kuala Lumpur, Colombo, London, and Abu Dhabi.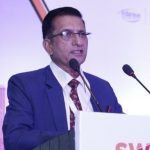 The first round of voting was held in early September in which eight candidates were in the fray and with no candidate getting 50 percent votes the second round of voting became imperative which was held on 30th September. But the mood of the voter in the first round was clear as President Solih trailed with 39 percent his rival's 46%. The main reason for this defeat is the rebellion of Mohamed Nasheed, a former president, and a childhood friend of Solih.
In last elections Nasheed supported Solih to win the presidential election however once Solih became President, Nasheed felt ignored hence he constituted a new party and put forward a candidate in first round of elections. Although his party received only 7% of votes but his declaration of not supporting either of the main parties contesting, sealed the fate of Solih. Nasheed who was made speaker after the 2018 elections always supported India nevertheless in the current elections, he opposed Solih who is also deemed as India supporter. China's interest and foray in Maldives is no secret keeping its Indian Ocean geo-polity in mind.
Both Beijing and New Delhi are very keenly watching this change between murmurs that the current Presidential election was a referendum on the Maldives tug of war between two Asian giants India and China as the small but important nation is located so strategically that both India and China want to enhance their influence on the island nation. Muizzu has support of Abdullah Yameen Abdul Gayoom who remained President of Maldives from 2013 to 2018. At present he is serving 11 years of jail term on a money-laundering case and is debarred from contesting elections.
His supporters are posting videos on social media sites advocating the release of Yameen. President elect Muizzu also in his brief interaction at party headquarters supported the release of the former President who is a strong supporter of China. Yameen during his presidency, made Maldives a part of the Belt and Road Initiative (BRI), which is the dream project of Chinese President Xi Jinping. BRI is a debt-trap and several countries in the world are suffering because they became part of BRI. Sri Lanka is the foremost example of Chinese debt trap; the economy of the island nation was ruined and at that time India and International Monetary Fund (IMF) rescued the island nation.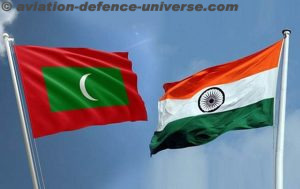 Maldives which is a Muslim country of 550,000 people was always worked under "India First" policy however under President Yameen it changed its foreign policy and came under influence of expansionist China. Maldives under his presidentship took loan of more than 1 billion dollars to finance massive infrastructure projects which included housing as well as bridging connecting over crowded Male to nearby suburb and airport islands. His tenure was authoritarian, and he imprisoned large number of opposition leaders, tormented journalists, bribed judges, and lawmakers. He even corrupted the human right activists and controlled the public ruthlessly by using security forces. In his tenure massive corruption occurred in which millions of dollars were embezzled from public funds. Although he was a democratically elected president, he ruled the country with an iron fist. He is known as killer of democracy.
The Islamic fundamentalism and extremism increased manifold during Yameen's tenure. He deliberately overlooked the rise of al Qaeda, Islamic State of Iraq and the Levant (ISIL), Islamic State of Iraq and Syria (ISIS) at present known as Islamic State (IS), in the island. As the majority population of the island is poor and uneducated hence extremist Islamic organisations successfully recruited Maldivian youths. Saudi Arabia pumped large sum of money in constructing mosques and Madrassas while Pakistan sent Maulvis and Imams for preaching Islamic fundamentalism in the country. As more than 43% of Maldivians have access to internet hence Islamic fundamentalism was also spread through internet. Yameen Rasheed the outspoken blogger of "The Daily Panic" was brutally killed by extremists. His friend Ahmed Rilwan another journalist was also kidnapped in 2014 and he never came back. Rise of Islamic fundamentalism suited Yameen, Pakistan as well as to China as all three were working against democratic and secular India.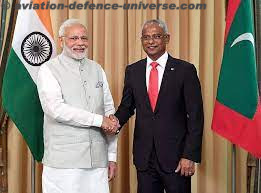 On the other hand, Solih defeated Yameen and won 2018 elections on the premise of eradication of corruption, establishment of democratic norms, a secular regime, good governance, and action against the killers of blogger and journalist. Solih introduced minimum wage policy, stopped oppression of rival political parties, and also developed infrastructure in Maldives', distant islands. The undue Chinese influence which was enhanced during the regime of Yameen was also reduced. Solih obtained $250 million financial assistance from India which rescued the Island nation at the time of COVID-19 pandemic when the tourism industry which is the mainstay of Maldives dried up. India also built several infrastructure projects including a second bridge in Male region and extended financial assistance. An important Maldives based think tank namely Baani Centre for International Policy claimed that in the end of 2021 the debt from India and China became equal. As Solih drifted from China, he took the country near Western countries including United States, Australia, and United Kingdom. These countries were critical of human rights abuses during the regime of Yameen. These countries also helped Maldives and for the first time posted their envoys in Male.
However, the analysts claimed that Solih has not proved a good administrator and failed to eradicate corruption from the country. Only Yameen was imprisoned while other political leaders especially Solih's supporters were not charged for corruption. Solih used state-owned companies to give jobs to journalists so that they write favourable articles appreciating his party and administration.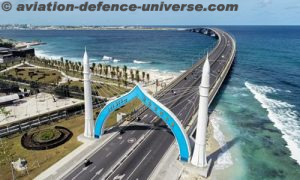 Muizzu and his party were able to raise anti-India sentiments through "India out Campaign" and promised to push out Indian military personnel from the island nation. Muizzu and his party People's National Congress, which is pro-China alleged that under Solih, country's sovereignty is in danger. Solih failed to convince the masses that Indian military contingent is only to build a dockyard. Although several foreign powers including China, India, USA, and Saudi Arabia are influencing Maldives, but Muizzu's party targeted India as Delhi was projected close ally of the MDP. The PNC rumoured that India is funding MDP's election campaign. Yameen is very critical of India as he believes that India was behind his ouster in 2018.
Nonetheless, analysts claim that the regime of Muizzu will be awful as his party would suppress opposition parties, journalists etc. The influence of China would enhance manifold and democratic values would be reduced, while human right violations would enhance. Islamic fundamentalism is also expected to increase manifold and it will hamper country's scientific progress and modernisation drive.
Although Muizzu and his party are pro-China and won elections by criticising the policies of Solih and on anti-India rhetoric but once Muizzu becomes President of the country, he or his party cannot ignore India as Delhi helped the country in the hour of need. Muizzu before he was elected as President, asserted that if elected he would continue with the policy of "India First" but his policy would be in limit. In democracies political parties come and go but national interest remains supreme hence the importance of India would not be dwindled much.
(Jai Kumar Verma is a Delhi-based strategic analyst and member of United Services Institute of India and The Manohar Parrikar Institute for Defence Studies and Analyses. The views in the article are solely the author's. He can be contacted at editor.adu@gmail.com)