Rajya Sabha MP Rajeev Chandrasekhar gifts a restored Dakota to IAF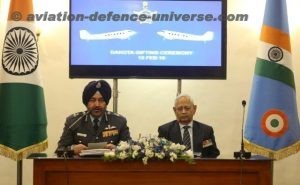 New Delhi, 13 February 2018. In a Historic moment for the nation and the Indian Air Force, Rajya Sabha MP Rajeev Chandrasekhar today gifted a DC3 Dakota aircraft bearing the Tail Number VP 905 and called "Parashurama" in a signing ceremony to The Indian Air Force to be part of its Vintage Fleet.
The Gift Deed was signed between Air Chief Marshal Birender Singh Dhanoa, PVSM, AVSM, YSM, VM, ADC , Chief of the Air Staff of the Indian Air Force and Air Commodore M K Chandrasekhar, VM, VSM (Retd)- Rajeev Chandrasekhar's father who an Dakota Pilot himself.
The MP gifted the restored WW2 Dakota aircraft's Papers & Deed to Chief of Air Staff on behalf of his father.This Tail No. VP -905 is the same as the first Dakota aircraft that transported troops of 1 Sikh regiment to Srinagar on 27 October 1947 in the J&K operations.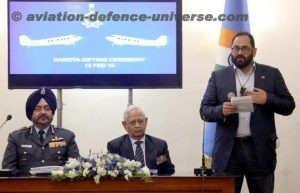 The Tail No. VP 905 – this holds special significance for the Dakota and the Indian Air Force. On 27 October 1947, three Dakotas of No. 12 Sqn took off from Wellingdon airfield (Safdarjung) at 0500 hours for Srinagar signalling the start of the IAF operations in the 1947-48 Indo Pak War. Before the end of the day, 28 Dakota sorties were flown (including 6 civilian sorties.)
The first Dakota Aircraft to take off and land at Srinagar piloted by Wing Commander K L Bhatia and carrying the first batch of troops of 1 Sikh Regiment under command of Lt Col Dewan Ranjit Rai bore the Tail No VP 905.
Speaking on the Occasion, MP Rajeev Chandrasekhar said "The Dakota (Dak) was also part of my childhood as my father flew it all over India and so today I fulfill my dream of helping my father donate a DC3 Dakota to the Indian Air Force"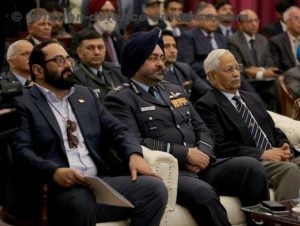 "This aircraft VP 905 is dedicated to all Air Warriors and their families who served an flew the Dakota in various IAF operations in remotest parts of #India from 1947-1971" an emotional Air Commodore M K Chandrasekhar, VM, VSM (Retd) said.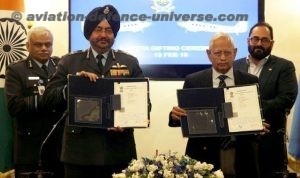 "On being asked on why he chose the Aircraft to be named "Parashurama" the MP said "The Dakota DC3 was named Parashurama – to signify the eternal warrior – after Saint Parashurama – the sixth avatar of Vishnu. Like other avatars of Vishnu, he appears at a time when overwhelming evil prevailed on earth to correct the cosmic equilibrium by destroying the evil forces."