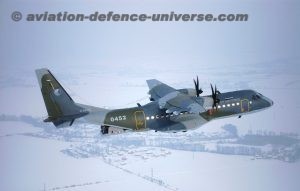 Getafe, Madrid. 16 December 2019 . The Czech Air Force has signed a contract for the acquisition of two additional Airbus C295 medium airlifters. The aircraft, equipped with winglets and ordered in transport configuration, are due to be delivered in the first half of 2021.
The agreement takes the Czech Air Force's total C295 fleet up to six aircraft. Together with this agreement, an additional contract was also signed for the upgrade of the four C295s currently in operation with the Czech Air Force.
Alberto Gutiérrez, Head of Military Aircraft at Airbus Defence and Space, said: "We greatly appreciate the confidence shown by the Czech Air Force in the selection of the C295. This repeat order reinforces its position as the market-leading medium transport and patrol aircraft for operations in all environments."
With this new order the number of global orders for the C295 rises to 214 aircraft.