First Phase to be held at sea onboard INS Vikrant
Defence Minister to address the Naval Commanders onboard the Indigenous Aircraft Carrier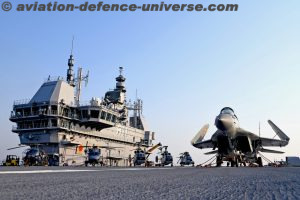 New Delhi.  05 March 2023.  The first edition of the Naval Commanders' Conference of 2023 is scheduled to commence on 06 Mar 23. The conference serves as a platform for Naval Commanders to discuss important security issues at the military-strategic level as well as interact with Senior Government functionaries through an institutionalised forum .
The novelty of this year's conference lies in the fact that the first phase of the Commanders' Conference is being held at sea, and for the first-time, onboard India's first indigenous aircraft carrier, INS Vikrant. Defence Minister  Rajnath Singh will address the Naval Commanders onboard INS Vikrant on the conference's opening day. The Chief of Defence Staff and the Chiefs of the Indian Army and Indian Air Force would also interact with the Naval Commanders on subsequent days to address the convergence of the three Services vis-à-vis common operational environment, and avenues of augmenting Tri-Service synergy and readiness towards the defence of the nation and India's national interests. An operational demonstration at sea is also planned as part of the activities on Day 1.
The Chief of the Naval Staff, along with other Naval Commanders will review major Operational, Materiel, Logistics, Human Resource Development, Training and Administrative activities undertaken by the Indian Navy in the last six months and further deliberate upon future plans for important activities and initiatives. During the conference, Naval Commanders would also be provided with an update on 'Agnipath Scheme' executed in the Indian Navy in Nov 22.
(the first batch of Agniveers, which also includes the first batch of women Agniveers of the Indian Armed Forces is scheduled to pass out from INS Chilka in end Mar 23).
Due to the prevailing geostrategic situation in the region, the Conference has its own significance and relevance. The Navy has witnessed significant growth in its operational tasking over the years in consonance with India's growing maritime interests. The Commanders would also deliberate the Navy's readiness to address the challenges to our Maritime interests. The Indian Navy remains focused on being a combat-ready, credible, cohesive and future-proof force and continues to assiduously execute its mandate as the maritime security guarantor of the country.