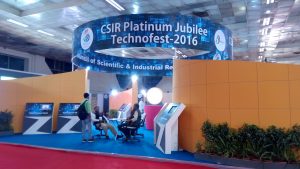 New Delhi. 15 November 2016. It was aerospace and strategy day at Council of Scientific and Industrial Research (CSIR), pavilion at the India International Trade Fair(IITF).
DG-CSIR, Dr. GirishSahni felt , "there are new challenges that we shared and rectified here. People with ambition want to turn up to Research & Development that is a formidable challenge. It is highly palpable job that needs to be tapped soon."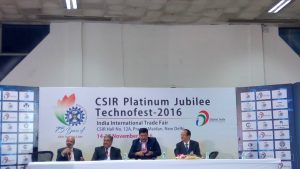 Professor R.K. Sinha, Director, CSIR- Central Scientific Instruments Organization (CSIO) shared the lab's contribution to the Aerospace sector. CSIO has manufactured the Helmet Mounted Display for aircrafts' pilots, vehicle and human detection system used by the Indian Army and Laser Shadowgraphy. The bullet proof jackets are also made by the continuous efforts of CSIO.
Dr. J.J. Jadhav, Director, CSIR- National Aerospace Laboratories (NAL), in his presentation, gave highlights of the achievements and contributions of NAL in the field of Aerospace & Strategic sector.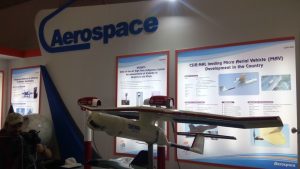 Said Mr. Jadhav exclusively, "this is a very encouraging event. If we combine our expertise, we can take up big projects. Also from the NAL side, we have showcased Carbon Composites, Simulator, Redomes, etc. We are also looking into civil aircrafts vision.  It has helped us to tell industry that what is our plan and technologies which are already commercialized. It was a very interactive session with all."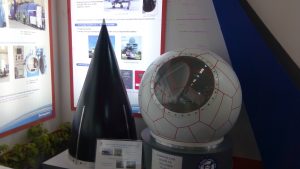 He showcased the promising technologies being used in the different aircraft of Indian Armed Forces. Focusing upon Public-Private partnership, he presented an outline for the future of light-weighted aircraft to be used for defense forces
The CSIR conclave unfolded with precise details about the Aerospace technology and innovations as Dr. K. Muraleedharan, Director, Central Glass and Ceramic Institute (CGCRI) discussed about the importance of Nano Technology, Radiation Shielding and Thermal Generation. He also spoke about the prevalent use of Optical Fiber which has proved to be a boon for the Telecommunication sector.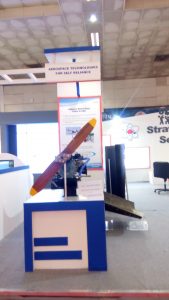 Naresh Chandra Sharma, Head of Domestic Aerospace & Defense, Tata Advanced Material Limited elevated the conclave with his views on composites being used in aircrafts that have benefitted the aerospace sector. It includes fins and several composites used in the cockpit of an aircraft.
Ketan. J. Patel from Unique Chemoplant Equipment addressed the conference with his detailed presentation about the Aerospace Autoclave Development. It was followed by the presentations of Varinder Singh and Vinod Mathews from Bharat Electronics limited and Captronics Systems Pvt. Ltd respectively.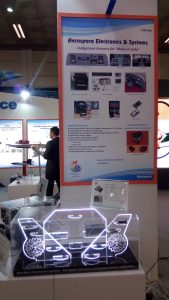 Signing of MoUs and Technology transfer also marked the day 2 of the Technofest by CSIR. It includes Enzen Global Solutions Private Limited, Bengaluru, for the development of a Wind Solar Wind Hybrid system for domestic applications, Aditya Birla Group, Mumbai- Technical Advisor Consultancy for establishing and a composite manufacturing unit for light Comabt Aircraft (LCA) composite parts and H&R Johnson (India) for low melting High Sodium Glass Beads, Mumbai.
Dr. SitenduMandal from CSIR-CGCRI spoke about the importance of commercialization of the technologies in recent times. He focused on the quantum of chemical analysis and to meet the demand of Atomic Energy. He emphasized on Radiation shielding window glass, radiation signals and Bead Technologies. He said that there is no threat of the radiations to the environment.