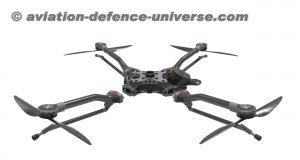 Paris 12 June 2018. Tundra-M is the first 100% customizable drone for users specialized in defense and rescue. Tundra-M 3D printed functional prototype has been manufactured by CRP Technology via professional 3D printing using Windform® Carbon-composite materials.
Hexadrone carried out on the 3D printed functional prototype the tests needed for the completion of the R&D phase as flight tests, assembly/disassembly tests, landing tests. Tundra-M is Hexadrone's first fully modular and easy-to-use drone for industrial and multi-purpose tasks, made for extreme weather conditions thanks to rugged, waterproof design.
The drone's body and arms have been manufactured in Windform® SP (body) and Windform® XT 2.0 (arms). Windform® XT 2.0 and Windform® SP are Carbon-fiber reinforced composite 3D printing materials from Windform family of high performance materials. Windform was created by CRP Technology, CRP Group's specialized company in advanced 3D printing and additive manufacturing solutions.
The rapidly detachable arms and three quick release attaches make the Tundra-M extremely flexible to meet the needs of any profession, while making operational conditions easier to maintain.