Berlin. 02 June 2017. Germany based COTESA GmbH has bagged a five year contract to manufacture key components for the H-47 Chinook heavy-lift helicopter, thereby joining the global supply chain of Boeing.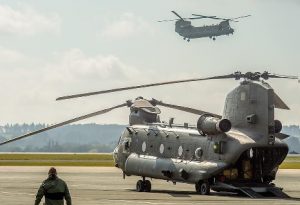 "We are committed to bringing opportunities to German companies from across the Boeing enterprise and will continue to strive to bring the best of Boeing to industry and the best of industry back into Boeing," said Michael Hostetter, Defense, Space & Security director of Vertical Lift Programs, Germany. "As a leading production facility for specialty composite parts, COTESA's expertise will support our efforts to enhance the Chinook helicopter and deliver top-quality, cost-effective solutions to our customers."
COTESA will manufacture portions of the Chinook tunnel cover section – a honeycomb-like core that makes up parts of the helicopter's external skin – for the global Chinook fleet."We are excited to join the Boeing supplier team. This contract award provides an opportunity for COTESA and our employees to demonstrate our expertise in high-performance composite parts," said Jörg Hüsken, chief executive officer of COTESA.
To date, Boeing has delivered more than 900 H-47 Chinook helicopters that are in operation in 19 countries, including eight NATO nations: Canada, Greece, Italy, Netherlands, Spain, Turkey, United Kingdom and the U.S., allowing for increased interoperability between NATO nations during joint training and deployment operations worldwide.
"The contract award to COTESA is a testament to the technology potential we see in Germany and another important milestone in our partnership with German industry," said Sir Michael Arthur, president, Boeing Europe.