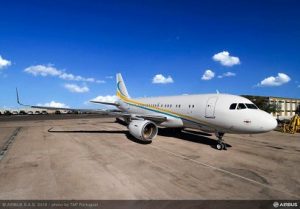 Zurich.13 September 2016 . Comlux has become the first to retrofit an Airbus corporate jet, an ACJ319, with Sharklets, which bring a fuel-saving of up to four per cent and a corresponding range improvement. The retrofit, carried out by TAP Maintenance and Engineering as part of the first such turnkey-project managed by Airbus Corporate Jets, is also the first on any version of the A319 airliner.
"Comlux has always been a leader in Airbus corporate jets, and our Sharklet retrofit highlights our innovative approach to offering customers one of the world's most modern and handsome corporate jet fleets," says Comlux Chairman and CEO Richard Gaona.
"Airbus has a reputation for innovative solutions and long-term relationships in the airliner world, so it's great to have the opportunity to echo that with this one with Sharklets in corporate jets, with a leader such as Comlux," says Airbus Corporate Jets Managing Director Benoit Defforge.
Sharklets act as a barrier to the flow of air around an aircraft's wingtips, reducing drag to save fuel. They have been offered as an option on all A320 Family aircraft produced in recent years, and are standard fit on all A320neo (New Engine Option) Family aircraft. Sharklets can also be retrofitted to existing A320 Family aircraft, from Manufacturer's Serial Number 1200 onward.