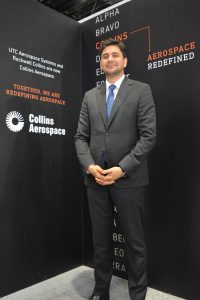 Talel Kamel, VP Middle East & Africa, Collins Aerospace briefing Chaitali Bag, ADU at IDEX 2019. (Transcribed Video).
Welcome to IDEX 2019. Welcome to our booth as Collins Aerospace. My name is Talel Kamel, I'm the Vice President for customer account management and as you know Collins Aerospace is bringing together UTC Aerospace systems and Rockwell Collins, two of the most innovative industry players in the Aerospace and Defence industry.
Collins Aerospace is back to IDEX to support the growing aerospace and defence local industry, very much aligned with the industrial policies in the Middle East
Collins Aerospace helps our customers fully connect the battlespace in the world, also in the Middle East. We have come here to showcase our laser technologies in terms of avionics as for example we have the proline fusion that we have also in the cockpit of the B250. With our strategic partner in the UAE colleges, we have also the HeliSure CTS, state of the art modernisation solution for helicopters as well as our coalescence, which is bringing together the virtual and the real environment to provide the best training experience to our customers.