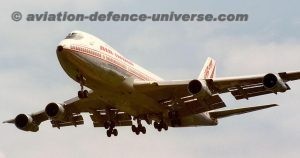 New Delhi. 16 May 2020. Today was the day for civil aviation in the Rupees 20 Lakh Crore package announced by Prime Minister Narendra Modi. Finance Minister Nirmala Sitharaman announced that tax regime for MRO ecosystem has been rationalized. Aircraft component repairs and airframe maintenance to increase from Rs 800 crore to Rs 2,000 crore in three years. It is expected that major engine manufacturers in the world would set up engine repair facilities in India in the coming year.  Convergence between Defence sector and the civil MROs will be established to create economies of scale. This will lead to maintenance cost of airlines to come down.
Lt Gen A K Singh (Retd) the erstwhile Lt Governor of the Andaman & Nicobar Islands and Puducherry, Ex GOC in C Southern Command who is going to take over as an Independent Director of Indian MRO  Air Works said, "despite forming the backbone of Indian aviation, MRO services & aviation engineering/maintenance have always been away from the limelight. However, given the strength of India's domestic aviation market, the current global circumstances have brought forth the urgent need for the country to be self-reliant or Atma Nirbhar, as pointed out by our PM. It is good to see the Government taking strategic measures that will not only give the MRO sector its long pending recognition and stature, but will also lend it a position of strength to fulfil the Govt's ambition of making India an MRO hub while simultaneously providing extensive employment opportunities to youngsters."
"Convergence between Defence sector and Civil MRO will be highly beneficial to the Indian Aviation Industry. This move will create economics of scale by retaining the much needed Forex in country. Also this move will provide employment to defence personnel in civil MROs post retirement," reacted Pulak Sen, Founder Secretary General, MRO Association Of India.
Bharat Malkani,  Chairman of Max AeroSpace and Aviation Pvt Ltd. responded, "the recognition of Indian MRO of being globally competitive is a very welcome sign and we are thankful to the FM. India can become an export hub for MRO. We are eagerly awaiting the policy details that will be the propellant of Vocal for Local."
6 more airports have been identified for 2nd round bidding for Operation and Maintenance on Public-Private Partnership (PPP) basis. Additional Investment by private players in 12 airports in 1st and 2nd rounds is expected to bring around Rs. 13,000 crore. Another 6 airports will be put out for the third round of bidding.
The first reaction from the industry came from Dr. GVK Reddy, Founder & Chairman, GVK. " We welcome the announcements made by the government today in the Civil Aviation. The move to invite Public Private Partnership in six more airports will provide the Airport Authority of India resources to develop smaller airports across the country and popularise the government's Udaan scheme. The plans to make India a global MRO Hub will ensure savings of precious foreign exchange and enable Indian airlines to get their aircraft serviced locally. I am sure that the government under Prime Minister Modi's dynamic leadership, will take many more steps in the coming days to get our Economy back on rails post the Covid-19 crisis."
The Minister also stated that efficient airspace management for civil aviation will be the priority. This will bring a total benefit of about Rs 1,000 crore per year for the aviation sector and will lead to optimal utilization of airspace; reduction in fuel use, time and will have positive environmental impact.
But is this sufficient? Will the implementation strategy also be chalked out ? We will have to wait and watch.