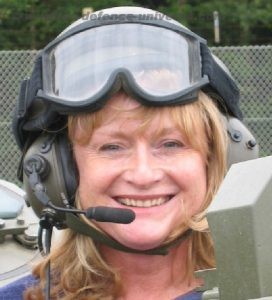 Bristol, UK: Chamois Consulting announces that Mary Ann Griffiths is appointed to provide public relations and media support to the company's defence and aerospace clients. Mary Ann has over 25 years' experience in this field and has been working as an independent consultant since 2009. She joins Chamois Consulting as the company approaches its first anniversary and continues to expand.
As a Chamois Principal Consultant – PR and Media, Mary Ann is starting her work at Chamois by taking care of the Arnold Defense account. US-based electronics designer and manufacturer, Arnold Defense, recently hired Chamois to raise its profile and build on its international reputation as the supplier of the world's most reliable rocket launchers.
Jamie Clarke, Director and Founder of Chamois Consulting commented: "When I realised the time had come to expand my team, Mary Ann was the very first person I approached. I was delighted when she accepted my offer and we're welcoming her onboard at an important time as we approach AUSA, Washington DC in a few weeks". He added: "I've started Mary Ann off working on our existing account with Arnold Defense but the plan is for her to also work with a few more clients, with whom we are close to signing contracts. Mary Ann brings a wealth of experience to add to an already strong line up here at Chamois and we're all very excited about the future. Welcome to the team Mary Ann!".
Mary Ann Griffiths added: "I was thrilled to be approached by Chamois and invited to contribute to the work of this dynamic and fast-growing consultancy. Jamie and I have worked together on various PR projects over the years and I've been inspired to see how Chamois has grown in leaps and bounds since its launch less than a year ago. This is a really exciting time to become part of the team and to start with the prestigious Arnold Defense account is an absolute honour.  I am really looking forward to achieving the best possible results for them through intelligent and well-planned media communications."