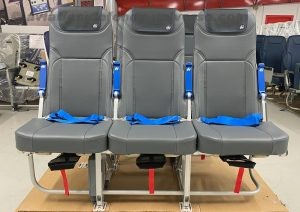 Moscow. 15 July 2021, Causeway Aero Group has received an EASA European Technical Standard Order (ETSO) authorisation approval for the lightweight Pitch PF3000 economy seat for the Antonov AN-148-201 and AN-158-100 regional jets (carrying 92 and 102 passengers respectively) and the derivative AN-178 medium military transport aircraft. Gaining ETSO authorisation means the seat has successfully met all 16g testing requirements. This had already been achieved for Airbus A320 Family aircraft.
The work is part of an agreement signed in 2019 between Pitch Aircraft Seating Systems (acquired by Causeway) and the Antonov Company of the Ukraine, which plans to offer the PF3000 as line fit and retrofit. Antonov Aircraft has ordered three shipsets so far, while South American Aircraft Leasing (SAAL) has ordered four shipsets.
While Causeway carried out all the design, stress, engineering and production, the ETSO (A) process was managed by Inter-Tec Group, a long term partner of Causeway, that has used its EASA Part-21J Design Organisation Approval to assist with a number of interior and seat projects.
Michael Rice, CEO of Causeway Aero Group, explained that the Antonov aircraft have a 3+2 configuration, compared to 3+3 on the Airbus (although twin units had also been developed for specific locations in the cabin). In addition, the layout of the seat tracks is slightly narrower. This presented a new dynamic in testing. He commented: "Once again the Causeway integrator, engineering and production teams, in partnership with the Inter-Tec certification team, demonstrated tremendous agility and competence in this programme by developing and producing revised components within a few days, enabling the testing to be completed with minimal delays."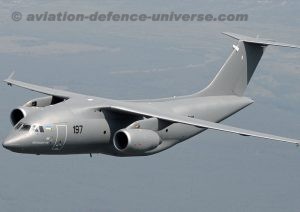 The next step will be for Causeway and Inter-Tec to work closely with the Antonov Company to get approval for the Supplemental Type Certificate from the State Aviation Administration of Ukraine.
Valeri Kostiuk, Chief Designer Airframe at the Antonov Company, commented "The Antonov Company has been very impressed by the tremendous customer service, expertise and rapid response of Causeway throughout and is looking forward to working together on the market launch of the Pitch PF3000 on Antonov aircraft in the near future." He added, "The Pitch PF3000 not only improves passenger comfort but reduces weight and hence fuel burn. The Antonov Team loved the comfort and durability of the seat and that it also gives the cabin a very smart appearance. This will enhance the marketability of the overall aircraft."