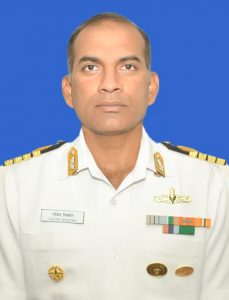 CAPT SACHIN REUBEN SEQUEIRA (04272-H)
Citation
Capt Sachin R Sequeira is currently appointed as the Commanding Officer of INS Kochi. During the recent cyclonic storm Tauktae in the North Arabian Sea, INS Kochi, under his able leadership, undertook Search and Rescue Operations, in extremely challenging weather and sea conditions, resulting in saving over 125 lives from the stricken Barge P 305 at the Offshore Development Area (ODA).
On 17 May 21, the ship was sailed with dispatch to render assistance to Barge P-305, which was sinking under the influence of the severe cyclonic storm Tauktae, off the ODA. On being directed to sail with dispatch, the ship was successfully able to prepare and cast off within one hour under extremely challenging conditions of 40-45 kns winds, blinding rain and nil visibility. Displaying thorough professionalism, exemplary leadership, the officer guided the ship to close the stricken barge, giving the distressed crew reassurance of assistance by the Indian Navy.
The increasing perilous conditions of 50 kns winds, swell height of above 10 mtrs, sea state 7/8 and intense spells of rains, precluded rescue by boat, Gemini divers or shore based air ops. Faced with extremely limited options, the officer took the bold decision of maneuvering the ship to close and recover survivors directly from the sea. This demanded utmost courage, bold action, adept ship handling and astute thinking as the drift in area was over 5 kns and swell conditions resulted in violent ship motions. The survivors were closed nonetheless and were recovered onboard through various innovative ways such as use of scramble nets jumping ladders and lines. The Officer, keeping the mission of saving lives foremost, over and above the safety of his own team and the ship, led and guided his officers and ship's company tirelessly throughout the day & night over a period of 36 hours. His courageous action, motivation of the crew and composed decision making enabled rescue of 125 personnel, including over 65 survivors recovered in dark hours, without injury or loss of life of his crew.
The successful and daring execution of the Search and Rescue Operation under unprecedented stress and extreme rough weather highlights the extraordinary leadership, professionalism and fortitude of the officer. This brave act of leadership and courage was in keeping with the ethos of the Navy and in service of the Nation in times of peril and adversity. For his extraordinary bravery, courageous leadership, exemplary grit and determination, in the face of extremely challenging conditions, the officer is recommended for the award of Shaurya Chakra.