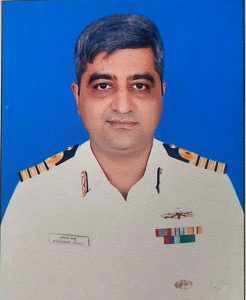 Citation
Capt Prashant Handu (04454-Y) is currently appointed as the Commanding Officer of INS Kolkotta. During the recent cyclonic storm Tauktae, in the North Arabian Sea, the ship under his able leadership, undertook Search and Rescue Operations, in extremely challenging weather/sea conditions, resulting in saving of several lives.
On 17 May 21, in response to Cyclone Tauktae, the ship was ordered to sail with despatch to assist vessels in distress off the coast of Mumbai.With Captain Prashant Handu at the helm, the ship cast off in extremely adverse weather, with winds gusting upto 60 knots and negligible visibility. The ship was directed to render assistance to MV Gal Constructor, which had taken in water in her engine room and was in danger of sinking. With steadfast resolve and determination, the officer as the On-Scene Commander, followed the striken ship into shallow and unfrequented waters, remaining poised to evacuate the crew, should the need arise. The officer convinced the Master of MV Gal Constructor not to abandon ship, which could have resulted in casualties in the rough sea conditions. Instead the ship was let to drift into shallower waters to run aground off Mahim. This innovative approach enabled all 137 crew of the ship to be safely airlifted.
Kolkotta was thereafter directed to augment the SAR effort for Barge P-305. Despite blinding sea spray, rain and Sea State 7/8, the officerdisplayed extraordinary leadership, professionalism and fortitudeashe utilised all the resources at his disposal to search for survivors. Determined not to leave behind any fellow mariners, he also took the command decision to lower his ship's divers to faciliatate recovery of mortal remains. He tirelessly spearheaded SAR efforts of Kolkata for the next two days, recovering five survivors and mortal remains of 18 deceased. In sea conditions that put his ship, men and machinery to the ultimate test, Captain Prashant Handu's stoic determination and courage was a beacon to his ship's crew.
The successful and bold execution of Search and Rescue Operations, in extreme weather conditions, highlights the unparalleled bravery, bold decision-making, presence of mind and risk-taking ability of the officer. His actions are in keeping with the naval ethos of 'Duty, Honour and Courage'. For his exemplary leadership and resolute valour, which resulted in safe evacuation of the crew of MV Gal Constructor, recovery of five survivors and 18 mortal remains, he is strongly recommended for award of Nao Sena Medal (Gallantry).