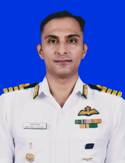 The officer is one of the most experienced pilots of the MiG-29K fleet of the Indian Navy. He is a Qualified Flying Instructor with more than 2000 hours of total flying experience. On 16 Nov 19, the Officer faced an unprecedented grave emergency whilst airborne in MiG 676 wherein, his brave and selfless decisions in a span of a few seconds alone ensured the safety of numerous civilians lives on ground.
At about 1147 h, on 16 Nov 19, Capt Sheokand got airborne from Dabolim airport for a training mission with a trainee pilot in the front seat on controls. Whilst climbing and passing through 1200 feet height, MiG 676 suddenly encountered a huge flock of birds. The aircraft took multiple bird hits despite the pilot trying to avoid them, some of which ingested into both its engines resulting in instantaneous and simultaneous failures and fire on both engines.
Capt Sheokand immediately took over controls from the trainee pilot and steered the aircraft to gain as much height as possible, whilst simultaneously declaring emergency on radio and trying his best to recover the aircraft. With a failed left engine and confirmed fire in right engine as well as on the aircraft accessory gearbox, the pilot realized that he had few seconds in air before it crashed below into the Zuari Oil Reserve and the heavily populated region of South Goa. The aircraft's only other serviceable engine was on fire and actions as per Standard Operating Procedure necessitated the pilot to jettison all additional stores, which in this case was the full ventral fuel tank with 2000 Kg fuel, gain additional height and make an attempt to recover. If all this was not feasible, the only other alternative was to initiate an ejection to save himself and the trainee pilot.
However, Capt Sheokand realized the impending catastrophic ramifications of jettisoning the fully loaded fuel tank into the populated area below and allowing the uncontrolled aircraft to crash into the Zuari Oil reserve. In a calm and composed manner, the officer displayed exemplary presence of mind, superior clarity of thought and extreme selflessness, wherein, he assessed the situation in fraction of seconds and pointed the aircraft towards the only unpopulated barren land within the area before initiating the ejection to save the trainee and himself.
The officer displayed outstanding professional/ superior flying skills and presence of mind in handling the emergency to prevent loss of the lives of numerous civilians and national property as well as initiating a safe ejection for himself and the trainee pilot. Capt Mrigank Sheokand, (05107-F) has been awarded Nao Sena Medal (Gallatry).