Shaikha Dhaen Almheiri , Aerospace Engineer, Calidus Briefing about aircraft B 250 To Chaitali Bag ADU At IDEX 2019. (Transcribed Video).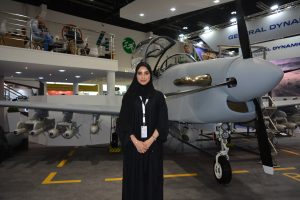 Salam ailakum, this is Shaikha Dhaen Almheiri here. I'm an aerospace engineer. I'm from the Calidus company, It's land and ground defence technology. Today I'm going to speak about the aircraft B250, which is also called Bader 250. Our aircraft is built of carbon fibre which is light and what is special in our aircraft is that we know what our end users need and we know what's the weather of our region and what we need and what we don't need. 

B250 is considered the first light attack aircraft built in UAE and the engine we are using in our aircraft is called Pratt and Whitney engine, Canada. The horsepower is 1700 shaft horsepower and we can see that our turboprop have four blades, these blades are built out of carbon fibre which will make it more lighter.

What's special about our aircraft is that it's fully built of carbon fibre. Carbon fibre is a really strong material and is weightless, which will make our aircraft very light and also we have around eight hard points in our aircraft. With the weapons that are customised in UAE.