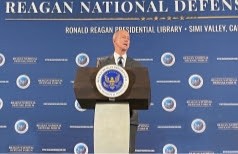 Washington, DC. 10 December 2021. CAE USA Board of Directors member and Former House Armed Services Committee Chairman, William "Mac" Thornberry, was honored with the Ronald Reagan Peace Through Strength Award for his service and dedication to supporting the U.S. Armed Forces. The distinguished award was presented at the 2021 Reagan National Defense Forum (RNDF) to Thornberry and former U.S. Deputy Secretary of Defense (2014-2017), Robert Work.
"Chairman Thornberry and Secretary Work have each devoted decades of their lives to serving and supporting our nation's armed forces. Their steadfast leadership has contributed greatly to our safety and freedom as a nation," said Frederick J. Ryan Jr., chairman of the board of trustees of the Ronald Reagan Presidential Foundation and Institute. "Their knowledge and understanding of defense strategy, budgeting and modernization have been invaluable to preserving our competitive edge. As we honor them at RNDF, we trust that their contributions to the cause are not yet complete."
Mac Thornberry joined the CAE USA Board of Directors in 2021 after retiring from U.S. Congress where he served for 26 years representing the 13th district of Texas. He was a longtime member of the House Armed Services Committee, which he chaired for four years, served on the House Intelligence Committee, and chaired the Speaker's Cybersecurity Task Force. Thornberry's contributions include working to get enhanced innovation to the warfighter faster through a modernized and efficient DoD acquisition process.
"I am incredibly honored by this award, while knowing that anything useful I may have done has been because of those I have been privileged to work with over the years. I am grateful to join this distinguished group of individuals who support a noble cause, the strength and safety of our warfighters who willingly sacrifice to safeguard the welfare of the American people," said Thornberry.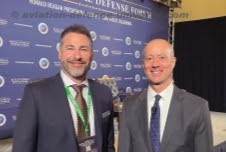 Thornberry and Work join an esteemed list of previous award recipients, including former Vice President Dick Cheney; Sen. Jack Reed (D-RI); U.S. Rep. Adam Smith (D-WA); former Secretaries of State Condoleezza Rice and George Shultz; former Defense Secretaries James Mattis, Ashton Carter, Leon Panetta and Robert Gates; former Secretary of Homeland Security Jeh Johnson; former Sens. Carl Levin (D-MI.), John McCain (R-AZ) and Sam Nunn (D-GA); and retired General Jack Keane.