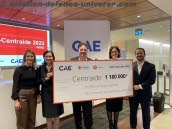 Montreal, Canada, November 30, 2022 (NYSE: CAE; TSX: CAE) CAE announced today that it had reached a new record in funds raised for the 2022 CAE-Centraide (United Way) campaign. This year, CAE raised close to $1.2 million ($1,180,000) through employee donations, fundraising activities, and a corporate donation.
"For years, CAE employees, our union and other partners have contributed to Centraide (United Way), and I am grateful to everyone for their ongoing generosity and commitment," said Marc Parent, CAE's President and CEO. "The return of in-person events and fundraising activities signalled an increased engagement towards Centraide's cause, uniting us as One CAE around a common purpose that is greater than ourselves."
CAE and Unifor Local 522 have led campaigns for Centraide for many years and have been recognized by ten Centraide Solidaires awards, which highlight outstanding campaigns.
CAE and its employees are extremely proud to be an integral part of the fabric of Greater Montreal and have donated $15.8 million to Centraide of Greater Montreal since 2000.
In addition to Centraide, CAE supports the communities in which it operates through partnerships, donations and sponsorships that mainly support causes in education, civil aviation, defence, security and healthcare. The company also encourages individual and team volunteering through its CAEvolunteering program and donates to several causes supported by employees