By Col NB Saxena
New Delhi.  September, 2015. The highest fatality rate in the Indian Army is not in its infantry battalions, or in fighting. It is in a force which is least spoken about and bears the maximum brunt for giving connectivity to sensitive border areas – the Border Roads Organization (BRO).
The Defence Minister Manohar Parrikar has emphasized on the need to incorporate the latest technologies in solving the challenges and enhancing the pace of construction of roads, bridges and tunnels in the inaccessible and far-flung border areas, which is a major problem faced by Border Roads Organisation (BRO). He was addressing the inaugural function of a two-day 'International Seminar on New Construction Materials Techniques and Design in Bridge, Tunnel and Road Construction Suitable for Infrastructure Development in Inaccessible Border Area'.
The Minister said, construction materials which behave normal in plain areas may not be conducive in the extreme cold climate of high altitude areas. He stressed the need for the application of nanotechnology which will be of great use in soil stabilisation, being a pre-requisite for construction of roads and tunnels in such areas. 
Speaking on the occasion the Director General Border Roads Lt Gen RM Mittal said road construction has become very vital in infrastructure development of the country. He said for enhancing its efficacy the BRO has not only imparted training to its officers in India and abroad to hone their skills, but also has introduced new technologies in the construction of roads, bridges and tunnels in the recent months.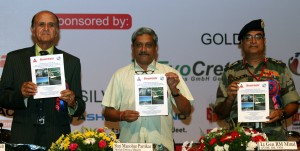 The aim of this seminar was to evaluate and identify latest techniques and construction materials for building roads, bridges and tunnels, thereby enhancing the speed of the construction and to meet the strategic needs of the Army in border areas. It also addressed  the issues pertaining to the regulatory mechanism and procedural hurdles for enhancing the use of latest technologies and materials in the construction industry.
The Minister also released a souvenir on the occasion. The seminar was  organised by BRO in partnership with Indian Institution of Bridge Engineers, Delhi State Centre (IIBE, DSC) and in collaboration with Ministry of Road Transport and Highways, National Highways Authority of India, Central Public Works Department and Ministry of Railways.