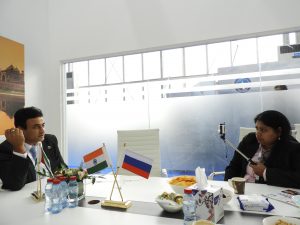 Praveen Pathak, Chief General Manager, Brahmos Aerospace Speaking To Chaitali Bag At IDEX 2019. (Transcribed Video)
"Hi, I'm Praveen Pathak, I'm Chief General Manager, market promotion and exports in Brahmos Aerospace. We are participating in NAVDEX 2019 and we have displayed all of our products here and our capabilities, what Brahmos possesses in today's date.
Primarily Middle East is a very important region for us, there are many countries which have shown a lot of interest in our products and we are in discussions with a number of countries out of which who are interested in shore based defence complexes and also the ship based platforms.
IDEX being one of the largest exhibitions in Middle East and the African region, we've got a lot of queries not only from the Middle East but also from other countries, we can say from South African side and also from South America and even some other countries which are of interest to us.
We hope that these discussions which we are having here will result in future and some fruitful cooperation between our nations and we'll be capable of making some strategic partnership with our nations which are friendly to India."