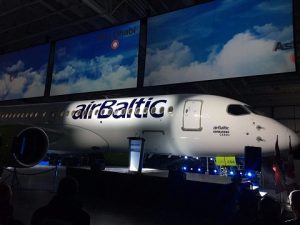 airBaltic will be the launch operator for the larger C Series variant
Aircraft scheduled to enter service with airBaltic on December 14, 2016
By Madhu Sawhney
Mirabel, Montreal, Quebec. 28 November 2016. It was a day witness to the success of C series in Montreal. Bombardier Commercial Aircraft launched the first CS300 aircraft to launch operator Air Baltic Corporation AS (airBaltic), the flag carrier of Latvia.
The CS300 is the larger variant of Bombardier's all new C Series aircraft, which is designed to carry between 130 and 150 passengers. In a charged and vibrant ceremony, the handing over of the aircraft from the Canadian aircraft major Bombardier to the airBaltic is a step nearer to its maiden commercial flight scheduled from Riga to Amsterdam for December 14, 2016.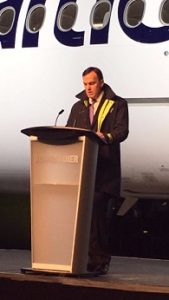 "We congratulate airBaltic, the first airline in the world to operate the CS300 aircraft, for its forward-thinking vision. We thank them for their partnership and long-standing support and wish them continued success" said Fred Cromer, President, Bombardier Commercial Aircraft. "Wherever the C Series aircraft takes to the skies, it will be an ambassador for Bombardier and a symbol of Canadian innovation and achievement as the most technologically advanced aircraft for the 100- to 150-seat market segment."
The CS100 and the CS300 aircraft have over 99 per cent parts commonality as well as Same Type Rating. The groundbreaking Pratt & Whitney PurePower® PW1500G engine, combined with the aircraft's advanced aerodynamics, delivers reduced fuel burn, noise, and emissions – making the C Series the most community-friendly aircraft.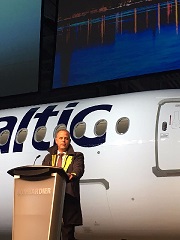 In an exclusive chat with ADU Martin Gauss chief executive officer,airBaltic said, "We had a great experience with the C-Series team of Bombardier and are happy to have received the first CS300 aircraft. It has a longer range, lower fuel burn and reduced noise emissions. These qualities will help airBaltic to operate on new routes and connect people all across Europe."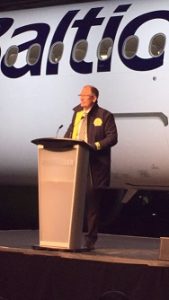 Rob Dewar, Vice President, C Series Aircraft Program, Bombardier Commercial Aircraft in a one-on-one with ADU said," we are very happy to have a great team to accomplish this task and ready to explore and deliver. November 28 is day of remembrance for us. Hard effort and vision will pay to realise many more dreams in the airline world. "
CS300 has created a new standard in cabin design and flexibility to ensure an unrivalled passenger experience. The aircraft's larger seats, overhead bins and windows deliver a wide body feel that offers passengers unparalleled comfort in a single-aisle cabin.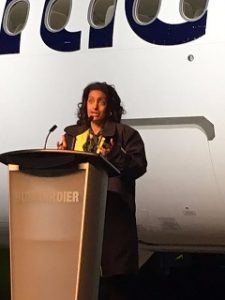 Quebec's Minister of Economy, Science and Innovation and Minister responsible for the Digital Strategy Dominique Anglade told ADU, " this event was full with joy, success and victory of faith in commitment. We are proud of this significant, symbolic delivery, which once again confirms Québec's judicious decision to act as Bombardier's partner in the development and the industrialization of C Series aircraft. Bombardier, which contributes $8.5 billion to Québec's gross domestic product, equivalent to 2% of the province's economy, is not only a key stakeholder in the Québec aerospace industry but is also generating substantial spinoff for the Québec economy overall. Bombardier has again set a mark in the aviation industry and this means more business in Quebec."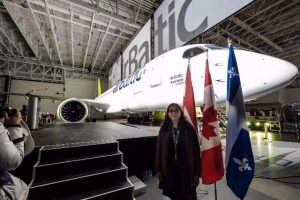 The airBaltic fleet already has 12 Bombardier Q400. These aircraft help in connecting the Baltic region with 60 destinations in Europe, the Middle East, and the CIS. airBaltic is a joint stock company that was established in 1995. Its primary shareholder is the Latvian state.