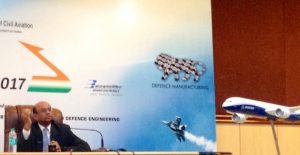 BENGALURU. 15 February 2017 . Boeing continues to see strong growth for India's commercial aviation sector. "The major factors we watch – the exchange rate, fuel price and the profitabilityof the airlines – are all still favorable and we remain confident in the strong growth of India's commercial aviation sector," said Dinesh Keskar, senior vice president, Asia Pacific and India Sales, Boeing Commercial Airplanes.
"We see the potential for travel growth in 2017 to continue to be high in India and we expect more than 100 million passengers to fly domestically this year." According to Boeing's 2016 India Current Market Outlook, 1,850 new airplanes, valued at $265 billion, will be needed in India, over the next 20 years. Single-aisle airplanes such as the Next-Generation 737 and 737 MAX will continue to account for the largest share of new deliveries, while widebody airplanes such as the 787 Dreamliner and the 777 family, make up the remainder of demand.
"Boeing continues to provide the airlines in India with the most fuel efficient, reliable and capable airplanes in every market segment, allowing them to open new routes and stay profitable in this growing and dynamic market," said Keskar. "We look forward to delivering several more 787 Dreamliners to Air India this year and the 737 MAX to SpiceJet and Jet Airways in 2018." The 737 MAX family builds on the success of the Next-Generation 737 offering the highest efficiency, reliability and passenger comfort in the single-aisle market. With its latest technology CFM International LEAP-1B engines, Advanced Technology winglets and other improvements, the 737 MAX will deliver 20 percent lower fuel use than the first Next-Generation 737s and the lowest operating costs in its class – 8 percent per seat less than its nearest competitor.
The 777 family of airplanes is distinguished by its fuel-efficiency, spacious cabin interior, range capability, commonality and reliability. The 777 provides the most payload and range capability and growth potential in the medium-sized airplane category — all with low operating costs. The new 777X builds off of the success of the 777 and incorporates advanced technology, including a new composite wing, all-new engines and superior aerodynamics. The 777-9 will be the largest and most efficient twin-engine commercial jet in the world with the lowest operating cost per seat of any commercial airplane and no competitor in its market segment. The 787 is a family of technologically advanced, super-efficient airplanes with new passenger-pleasing features. Since beginning service in 2011, with its unparalleled fuel efficient and range flexibility, the 787 is flying more than 530routes, with customers opening more than 130 new nonstop routes around the world.