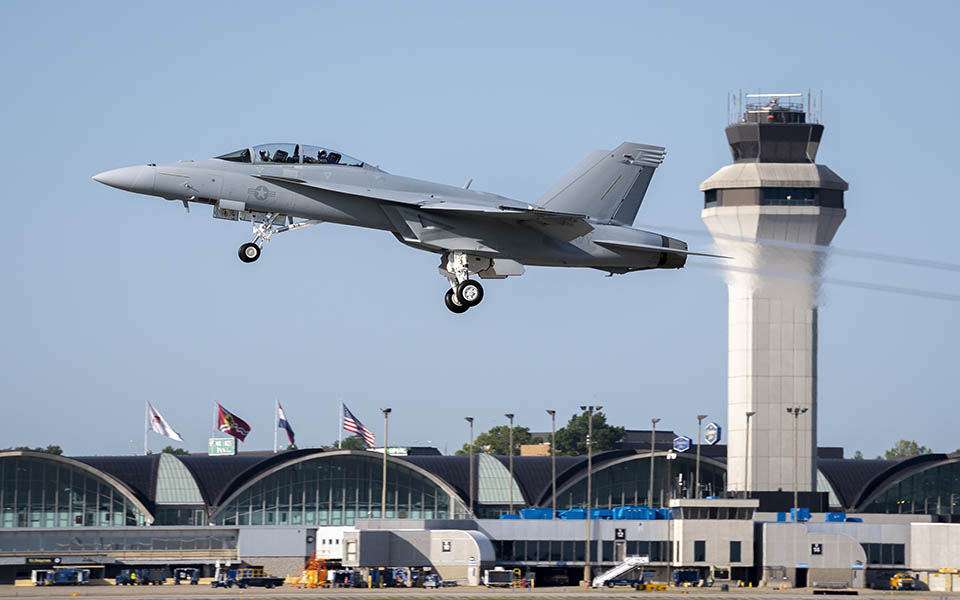 Check out the new Super Hornets at Dubai Air Show 2021
By Sangeeta Saxena
New Delhi. 11 November 2021. The excitement is palpable since Boeing delivered the first of the 78 contracted Block III F/A-18 Super Hornets to the U.S. Navy. Block III gives the Navy the most networked and survivable F/A-18 built with a technology insertion plan that will outpace future threats. And with the pandemic petering out and life getting back to normal, which better place than Dubai Air Show 2021 to showcase this upgraded naval asset.
Vice president and program manager, F/A-18, Jennifer Splaingard in a virtual meet-the-media, pre-Dubai Airshow 2021 said, "The key tenets of the Block-III Super Hornets are—enhanced sensor fusion and situational awareness, increased survivability and lethality, extended life of up to 10,000 hours. What really makes it competitive is the ability to put on capabilities quickly at an affordable cost."
It is claimed that the Block-III's mission computer has been future-proofed. And what does it mean? It means that the new software can be added as threats evolve, either by Boeing itself, as the Original Equipment Manufacturer (OEM), or by the end user, or even a hired third party.
These efforts will further enhance IRST21's proven detection, tracking and ranging capabilities in radar-denied environments. Compared to radar, IRST21 significantly enhances the resolution of multiple targets, enabling pilots to accurately identify threat formations at longer ranges. This 'see first, strike first' capability empowers pilots with greater reaction time, improving survivability, are the USPs of the fighter jet as per the manufacturer Boeing.
Block III's new adjunct processor translates to a fighter that will do more work and in far less time increasing a pilot's situational awareness. The jet is ready to receive apps-based solutions that will allow upgrades to the aircraft throughout its life span. "With a mission computer 17 times more powerful than current versions, a new data link with low latency and high bandwidth, collates all battle-space information. The new display gives the pilot better battle-space awareness, to make faster decisions," informed Jennifer.
When the world was seething under COVID-19 and life was under a lock down , Boeing was giving F/A-18 a new lease on life under Service Life Modification to the U.S. Navy. "The F/A-18 Block III Super Hornet is the newest highly capable, affordable and available tactical aircraft in U.S. Navy inventory. The Super Hornet is the backbone of the U.S. Navy carrier air wing now and for decades to come. The combat-proven Super Hornet delivers cutting-edge, next-generation multi-role strike fighter capability, outdistancing current and emerging threats well into the future," Boeing stated proudly.
The Super Hornet has the capability, flexibility and performance necessary to modernize the air or naval aviation forces of any country. Two versions of the Super Hornet – the single-seat E model and the two-seat F model – are able to perform virtually every mission in the tactical spectrum, including air superiority, day/night strike with precision-guided weapons, fighter escort, close air support, suppression of enemy air defenses, maritime strike, reconnaissance, forward air control and tanker missions. And it comes to the airshow at Dubai with these added technical advancements to let the customers in Middle East know that there is an option which their navies can exercise to meet the threat hovering over their waters.