2,300 new airplanes worth $320 billion in 20 years is the forecast
Low fares on India a major concern
By Sangeeta Saxena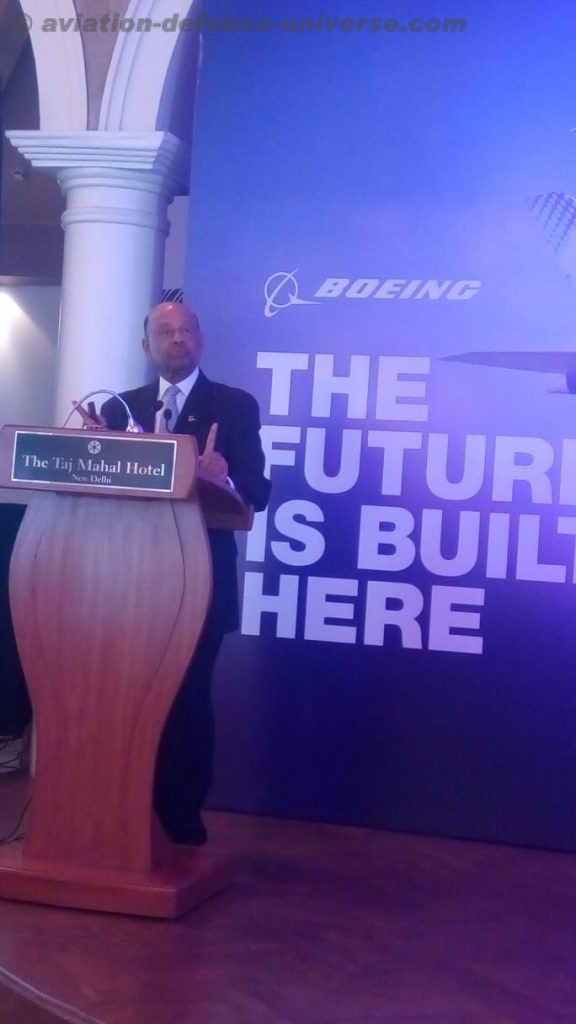 New Delhi. 19 December 2018. International aircraft major Boeing sees a growth in the Indian aviation market predicting a demand of 1,940 single-aisle planes (of 90 seats and above), 350 wide-body aircraft (of 200 seats and above) and 10 regional jets (seats below 90) worth costing US$220 billion , US$100 billion and US$1 billion, respectively.
"It has been 50 consecutive months of double digit traffic growth in India with more than 10 million passengers every month in 2018 where Low Cost Carriers provide 64% of all seats. And all this is despite the challenges faced by the airlines  due to strengthening of the US dollar versus the Rupee, high fuel prices and low fare yields. India is definitely the most promising market," said Dr. Dinesh Keskar, senior vice president of Sales for Asia Pacific and India, Boeing Commercial Airplanes.
Globally the airlines will need 42,730 new airplanes valued at $6.3 trillion. Commercial aviation will demand $8.8 trillion in services over 20 years. Indian economy is forecasted to continue to grow strongly with 3.5times the growth in GDP to reach a market size of $8.5T by 2037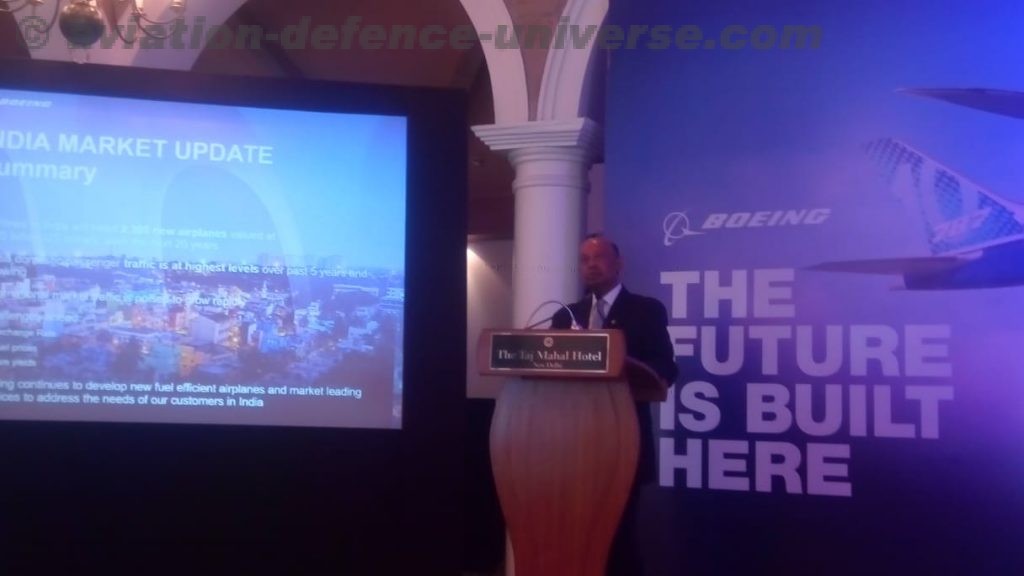 "The Indian economy is projected to grow by nearly 350 percent over the next two decades to become the third largest economy in the world. This will continue to drive the growth of India's middle class and its propensity to travel both domestically and internationally, resulting in the need for more new fuel-efficient short- and long-haul airplanes," added Keskar.
23 million daily passengers in India travel by train. Just over 1% shift of passengers from railways to airplanes, doubles the aviation market, as per Boeing. It says that it continues to develop new fuel efficient airplanes and market leading services to address the needs of its customers in India.
"To meet this increased domestic air traffic growth, we see the vast majority of available airplane seats coming from LCCs," said Keskar. "The success of this market segment will mean more than 80 percent of all new airplane deliveries in India will be single-aisles. And the superior economics and fuel efficiency of the new 737 MAX airplane will be the perfect choice for Indian carriers."
Keskar told ADU that Boeing is not a part of the Government of India's Regional Connectivity Scheme today but of it does become a part of it in the next four or five years 737 Max will be just the aircraft to fulfill the need of the scheme. There are 4,824orders for the 737 Max from 103customers. 281 deliveries to 45 customers have already been delivered.
The Current Market Outlook this year had an addition to it in the form of the Services Market Outlook. Market segments in the forecast are grouped into functions, depending on the specific segment. Commercial areas include corporate overhead; marketing, planning and customer service; flight operations; maintenance, engineering, parts, and upgrades; and ground, station, and cargo operations.
"Although the Boeing portfolio of commercial services offerings does not serve the entire market, we do provide carefully selected services that add the most value to our customers. The segments of the commercial aviation services market are diverse in terms of sales, activity scope, capital intensity, and competitive environment. Depending on the market segment, we forecast using growth rates similar to growth in fleet utilization, passenger traffic, or air cargo," said Keskar.
Commercial aviation will demand $8.8 trillion in services over 20 years. The Asia-Pacific region continues to be a strong growth driver for the world's aviation services market. The sheer force of its rapidly growing population, including an improving middle class, means more planes and routes will be needed to meet demand. While a global problem that needs a unique solution for different regions, the low supply of and high demand for pilots is magnified in Asia-Pacific because of its growth forecast. Pilot provisioning services can fill temporary shortfalls in staffing, but the aviation industry will need to adopt innovative training solutions to enable optimum learning and knowledge retention.
The market for maintenance and engineering (M&E) services, which includes parts and upgrades, makes up just more than 27 percent of the total market for commercial aviation services. During the next 10 years (2018 to 2027), airlines will spend $974 billion on M&E services; during the next 20 years, more than $2.4 trillion. Airlines may obtain these services in house, through outsourcing, or through a combination of the two. M&E services will grow from a base of $77 billion in 2017 and will average 3.9 percent annual growth during the next 20 years.
Shop maintenance is the largest segment of the M&E market, accounting for about 60 percent of total M&E services. Shop maintenance includes the maintenance of engines and other components such as landing gear, avionics, and the auxiliary power unit. Engine maintenance accounts for two-thirds of shop maintenance because of the high cost of skilled labor and
technology-intensive materials. Additionally, this explains why carriers outsource more than 70 percent of engine overhaul work.
Daily and overnight line maintenance is the collection of checks performed on an airplane as it sits at the gate. This comprises about 7 percent of overall M&E work.
Hangar maintenance consists of the more complex tasks typically completed while an airplane is temporarily out of service— heavy checks, system modifications, interior modifications, and passenger-to-freighter conversions. These activities represent 12 percent of M&E services.
All listed M&E activities require maintenance support, which makes up about 20 percent of the M&E services market. Maintenance support includes engineering services, planning, provisioning, maintenance training, and compliance and quality assurance. Regionally, the fastest growth will occur in South Asia (8 percent) because of a rapidly expanding fleet dominated by single-aisle airplanes whose multiple daily flights drive higher engine maintenance costs.
Automated systems, including warehouse flow management, intelligent security solutions, and piece-level tracking, can expedite cargo processing. Passengers will see expanded self-service options at check-in, baggage, security, and the gate that leverage biometric information, which helps alleviate congestion inside the airport and improve the customer experience.
Trimming one minute off the time an aircraft spends on the ground between flights can save up to $10 million per year, according to a Boston Consulting Group report. Airlines are therefore investing in technologies to provide greater visibility into their operations and allow them to improve efficiency and reduce turnaround times by optimizing resource management and integrating processes. These technologies include enhanced baggage tracking capabilities, as airlines are able to track a passenger's bag throughout its journey and potentially alleviate security-related delays in the cargo-handling process.
Industry wide data sharing and standardization of IT systems, such as through the Common Use Passenger Processing System, or CUPPS, have significant potential efficiency gains, though more progress needs to be made in this area.
Airports also are expanding connectivity outside the terminal. Technologies will streamline operations during taxi, takeoff, approach,and landing by communicating runway and gate information to pilots and controllers, increasing capacity, improving fuel efficiency, and enhancing safety. Collaborative Decision Making, which tracks all aspects of airport operations including ground operations, passenger throughput, and disruption management, is becoming more widespread and will eventually also include coordination with air traffic control systems.
"With more than five percent of the world's fleet expected to operate in India by 2037, services will continue to be a major driver of growth in the region's commercial aviation industry. Commercial services such as flight training, engineering and maintenance, digital analytics among others will provide airlines with optimal operational efficiencies as they continue to expand to meet growth in the marketplace. In the South Asian market, including India, Boeing forecasts a commercial services market valued at $430 billion over the next 20 years," said Keskar.