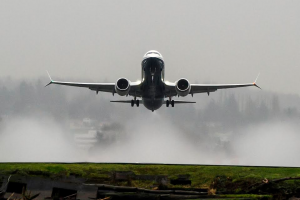 Renton, Washington. 09 March 2017. The U.S. Federal Aviation Administration (FAA) has certified the 737 MAX 8 airplane for commercial service. Boeing is now in the final stages of preparing for the first 737 MAX 8 delivery to customers in the coming months.
To earn certification for the 737 MAX 8, Boeing undertook a comprehensive test program that began just over one year ago with four airplanes, plus ground and laboratory testing. Following a rigorous certification process, the FAA granted Boeing an Amended Type Certificate for the 737 MAX 8, verifying the design complies with required aviation regulations and is safe and reliable.
"This certification is a true testament to the dedication and commitment of our entire MAX team throughout the process, from airplane design to flight testing," said Keith Leverkuhn, vice president and general manager, 737 MAX program, Boeing Commercial Airplanes. "The Renton team looks forward to delivering superior efficiency, reliability and design to our customers as they start to receive their 737 MAX aircraft in the next few months, " he said.