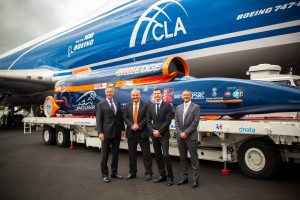 Farnborough, UK. 16 July 2016. It was not strange but novel to find a supersonic car manufacturer exhibiting at an air show. BLOODHOUND Team announced a partnership with logistics experts CargoLogicAir  and said will fly the BLOODHOUND Supersonic Car and support equipment from the UK to Upington in South Africa for the 2017 high-speed campaign.
The day was marked with the trial loading of the full-scale BLOODHOUND show car into CargoLogicAir's brand new 747-8F to ensure it would fit through the nose. The car was loaded onto a double length sliding pallet and was held aloft by a giant scissor lift. With the tail removed the show car fitted with centimetres to spare.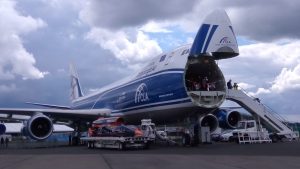 With the 747-8F trial load in a success, the team also loaded the show car into the nearby CargoLogicAir Antonov. This giant aircraft swallowed the car and lift vehicle with metres of space. BLOODHOUND Project Director, Richard Noble said: "In 1997 we had to move the 11.5 tonne Thrust SSC and a further 98 tonnes of cargo quickly to Nevada in order to take advantage of the very short weather window. Thanks to CargoLogicAir the car and team arrived without a scratch and we realised this was the only way to transport equipment.
"In September 2017 we're taking BLOODHOUND SSC to South Africa and we're delighted that CargoLogicAir are supporting the transportation. It means we can fly the Project direct from the UK to Upington in South Africa, just a short 120-mile drive to the desert. It's true to say that without the use of the Antonov in 1997, the 763mph World Land Speed Record could not have been achieved and we would have failed. We are delighted the relationship with our good friends, CargoLogicAir, is to continue," he added.