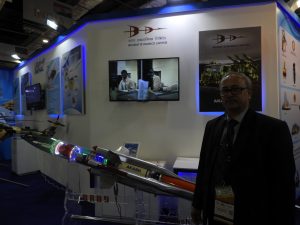 V. Gurudatta Prasad, Director(Production) Bharat Dynamics Limited In A Monologue Interview With Sangeeta Saxena, Editor, ADU At EDEX 2018 In Egypt (Transcribed Interview).
" I am Gurudutt Prasad, director, production from Bharat dynamics limited, India. We are manufacturing the missiles, various types of missiles. We started with the first generation anti-tank missiles now slowly we graduated to the different types of missiles, the second generation, third generation and surface to air missiles and surface to surface missiles are various missiles we are manufacturing now.
We have full fledged facilities for manufacturing all these missiles. And now the Government of India is looking for export of all the missiles to the friendly countries. So since this being one of the platform where the country's relations with our India is very good and so many other customers will come here, it will be a good opportunity..
The basic purpose of establishing this stall in the exhibition is that the display of so many products which can be exported to other friendly countries many visitors are coming and enquiring about our products and definitely it will be. When some customers come forward from the Egyptian market, you see the company involved since last 49 years
In manufacturing these kind of quality and reliable products which completely secure the country, all countries where these products are exported that's how we are trying to provide this kind of security through the missiles systems to various friendly countries so now we have established our various products which can be exported to various governments and various customers thus their country will be protected from the enemies. "