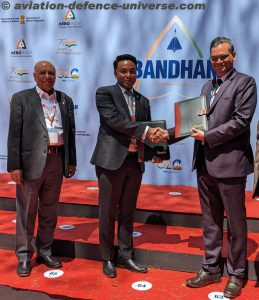 Bangalore. 16 February 2023. At Aero India 2023, the biennial air show and aviation exhibition being held at Yelahanka Air Force Station, Bengaluru, Navratna Defence PSU Bharat Electronics Ltd (BEL) has signed an MoU with Globals ITES Private Ltd for co-operation in technology development, co-creation and co-innovation, joint marketing and sales, in the fields of cyberwarfare and cyber defence systems.
The MoU aims at leveraging the complementary strengths and capabilities of BEL and Globals. The two parties shall work in close co-ordination, providing all the key assistance to each other for R&D as well as Joint Go to Market for Cyber Security Solutions.
"This partnership with BEL comes at a crucial time when there is an exponential rise in cyber attacks globally, and as a corollary, a huge demand to protect both critical and non-critical infrastructure from cyber-attacks," said Mr Bhanu Prakash Srivastava, Director (Other Units), & Additional Charge, Chairman & Managing Director & Director (Marketing).
BEL and Globals will jointly create sector-specific Cyber Security Solutions, Integrated Threat Management Systems, modern Security Operations Centres (SOC), and Artificial Intelligence (AI)-driven Cyber Defence Systems.