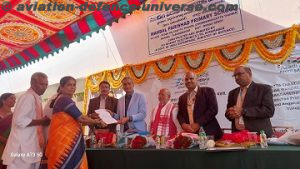 Bengaluru. 10 March 2023.  A Government school and Anganwadi in the Chowdammagutta Thanda village of Farooqnagar Mandal, Mahbubnagar District, Telangana, have got a new lease of life due to the CSR intervention of Navratna Defence PSU Bharat Electronics Limited (BEL).
BEL, which has adopted this village, has rolled out CSR initiatives addressing the basic needs of the villagers and transforming their lives in the process.
The Government Mandal Parishad Primary School and Anganwadi building here, located in the same compound, were in a dilapidated condition with leaking roof and rundown walls. Now, thanks to the intervention of BEL, both the school and anganwadi have got a new compound wall. BEL has constructed new buildings for both the institutions. The new school building has two floors with six classrooms and separate toilets for boys and girls. The Anganwadi has been provided with a kitchen to facilitate mid-day meals and a store room.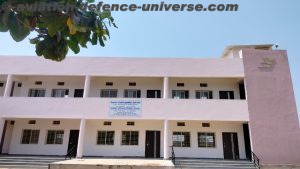 Notably, both the institutions cater to the poor, needy and underprivileged students from surrounding areas. Now, around 150 students from Class I to V at the school and around 35 Pre-nursery children availing of the services of the anganwadi can have a conducive learning environment.
Mr Damodar Bhattad, Director (Finance) & CFO, BEL, handed over the newly constructed buildings and other facilities to the District Education Officer, Ranga Reddy District, Telangana. Mr Shiv Nath Yadav, Independent Director, BEL, Mr Srinivas K, General Manager (BEL-Hyderabad), Mr Sreenivas S, Company Secretary, BEL, other senior officers of BEL, Government officials, local people of Chowdammagutta Thanda Village, teachers, parents and students were present.
BEL rolls out inclusive and sustainable CSR interventions for adopted village           
BEL has adopted Chowdammagutta Thanda village under the Swachh Bharat Abhiyaan flagship programme of the Government of India.
The Defence major has set up an RO water filtration plant with a provision for storage of drinking water in the village itself. Similarly, bore-wells have been dug and provision made to store the bore-well water in elevated storage tanks for day-to-day use by the villagers. Also, with the establishment of a Community Centre, the villagers now have easy access to water taps and water distribution points within the village. All these initiatives have improved the overall quality of life of the rural population numbering around 500. Earlier, the villagers had to travel around 3-4 Km every day to fetch water.
BEL has been a forerunner among Defence PSUs in promoting societal development. As a corporate entity, BEL actively participates in the social and economic development of communities in which it operates through CSR. BEL's CSR activities are aimed at inclusive growth, holistic community development and empowerment of marginalised and underprivileged sections.