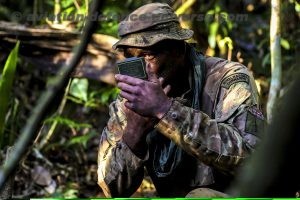 Greenwich.London. 10 September 2017. Military camouflage face paint manufacturers,
BCB International Ltd, will be displaying their new range at DSEi.
UK-based BCB International Ltd's range of camouflage creams has been used by countless armed forces personnel to blend into their environments. Visitors to BCB's stand (N5-200) will be able to see for themselves the company's novel range of camo products including their new squeezable camouflage face paint which is being used by Canadian Defense Forces.

BCB International's spokesperson, Philippe Minchin, said: "Our team of chemists work tirelessly to make our camouflage creams the ultimate military grade face paints. We are proud to be doing our bit to help our brave servicemen and women stay concealed from the enemy in all terrains. Whether it is in the rain, the searing heat, the snow or in urban surroundings our camo paints will not let you down.
"At the DSEI Show we will be exhibiting our squeezy face paint which has received huge interest since its market introduction."