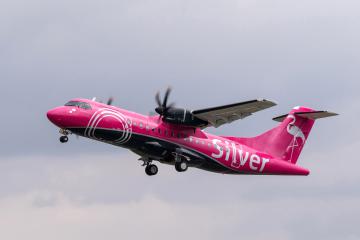 Toulouse. 28 April 2019.Silver Airways yesterday launched its regularly scheduled flights aboard its new ATR -600 series aircraft. The first flight departed Fort Lauderdale-Hollywood International Airport at 10:40 a.m. and arrived at Key West International Airport at 11:55 am (EST).

Silver Airways, America's leading independent regional airline, is reinventing the regional flying sector by being the first U.S. carrier to operate the technologically advanced, customer friendly ATR -600 series aircraft. Silver Airways has taken delivery of three new ATR 42-600 aircraft from NAC. The aircraft is specifically designed for short-haul markets, but with the same look, feel and customer amenities of larger jetliners. Yesterday marked the first time revenue passengers have flown on an ATR -600 operated by a U.S carrier.

The new aircraft are allowing Silver to expand its service in the Southeastern United States, the Bahamas and the Caribbean. By initially introducing the mission-specific ATR 42-600 aircraft, with seating for 46, Silver now has the unique ability to offer quicker direct flights to even more short and medium-haul leisure and business destinations in both domestic and nearby international markets.

"This is truly a great day for Silver Airways, ATR, Nordic Aviation Capital and our customers that would not have been possible without the hundreds of dedicated men and women of Silver Airways and Seaborne Airlines who have worked tirelessly over the past year to arrive at this historic moment," said Silver Airways and Seaborne Airlines CEO Steve Rossum. "The new ATR -600 series aircraft will be transformational for Silver Airways and is ideal for our short-haul domestic and nearby international operations. The state-of-the art aircraft allows for a safe, highly reliable and efficient fleet operation and a superior overall experience for our guests."

"We are proud to see the ATR -600 aircraft take flight in the U.S. and to introduce the most modern standards of passenger experience and regional aircraft with our valued partner Silver Airways," said ATR Chief Executive Officer Stefano Bortoli. "We are grateful to our friends at Silver for being our U.S. launch customer; leading what we expect to be a new wave of eco-responsible and passenger-friendly regional travel and the return of the ATRs in the U.S."

"Nordic Aviation Capital is proud of its relationship with Silver Airways, and we are particularly pleased to be part of their great success story," said Martin Moller, Chairman of Nordic Aviation Capital. "The introduction of the ATR -600 series represents an essential milestone for them. We congratulate Silver Airways on their service expansion and look forward to continuing our outstanding relationship with them for many years to come."

Silver Airways has taken delivery of three of up to 50 new ATR -600 series aircraft, including an initial order for 20 ATR -600 aircraft split among the 46-seat ATR 42s and the 70-seat ATR 72s. As the world's leading regional flying aircraft, the new ATRs will provide Silver's passengers unparalleled experience and reliability and pilots the industry's most advanced cockpit.

Silver intends to take delivery and begin operating five more ATR 42-600s in 2019, and subject to regulatory approval, the airline is planning to take delivery of at least three ATR 72-600s this year. All of the initial 20 aircraft are expected to be in service by 2020.