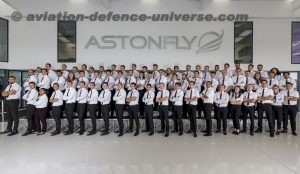 Toussus-le-Noble. 18 June 2019. Astonfly, the flight training centre based at the airport of Toussus-le-Noble, is exhibiting at the International Paris Air Show at Le Bourget from 17 to 23 June 2019. At a time when all airlines worldwide are recruiting pilots, Astonfly presents its campus in the Ile de France region focused on flight safety and student well-being. The school will be displaying two of its fleet of 40 single and twin-engine aircraft.
A HIGH RATE OF RECRUITMENT WORLDWIDE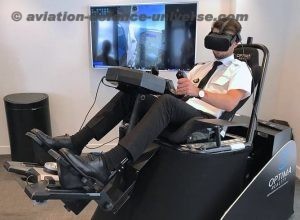 With air transport experiencing unprecedented growth (almost 5% per year), airlines are recruiting all over the world. Regular airlines and business aviation are looking for pilots, with some launching schemes to train their pilots from scratch like Air France with its Cadets. Analysts cite a need for 5,000 pilots per year in Europe in the immediate future, whereas only 1,500 are currently trained each year.
On a global level, the estimate rises to 41,500 pilots being taken on every year until 2037. In this context, Astonfly has become the leading private flying school in France with 120 pilots qualifying per year
TWO PLACES TO MEET US AT THE PARIS AIR SHOW
Astonfly is exhibiting all week at the Paris Air Show at stand B1 in the "Careers plane"space and at static display space A6 with a Cessna 172 and a latest-generation Cirrus SR22. On public days, the Astonfly training managers will be available to meet students and their parents to present the courses.
18 MONTHS OF THEORY AND PRACTICAL LESSONS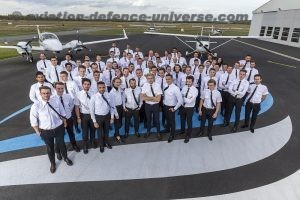 At Astonfly, professional pilot training lasts 18 months whether you are starting from scratch or already hold a private pilot's license: 9 months of theory lessons and 9 months of practical lessons on a fleet of 40 aircraft, from single-engine to twin-jet aircraft et and 3 simulators. At the end of the 18 months, the student obtains their professional pilot's license and their qualifications to join an airline directly.
Four classes of 30 students graduate each year. Recognised by the airlines, the Astonfly method enables the students to begin working very quickly. 96% of students find a job within 12 months of finishing their course. 30 partner airlines recruit directly from the Astonfly "pool" for their flight crew needs.
A CAMPUS OPEN TO STUDENTS 7 DAYS A WEEK
Astonfly accounts for almost 70% of the traffic at the Toussus-le-Noble business airport. The school has set up an ultra-modern campus here on over 7,500 m2, open 7 days a week and able to cater for up to 250 students simultaneously.
The Astonfly campus has an aircraft hangar, two lecture theatres, three simulators and recreational areas.
Astonfly supports every student at all stages of their training and takes charge of their student life (assistance with accommodation and funding, sports, etc.)
Moreover, the Astonjob pack includes 3 years of post-training practice, preparation for selections, quarterly meetings with recruiters organised at the prestigious Aéro-Club de France and access to a recruitment portal opening onto the alumni network.
Partnership with Optima Reality
The operation of 40 single and twin-engine aircraft such as the Cessna 172, Cirrus SR22 and Diamond DA42, and 3 Alsim simulators, Astonfly experiments an additional training in virtual reality, in partnership with Optima Reality.