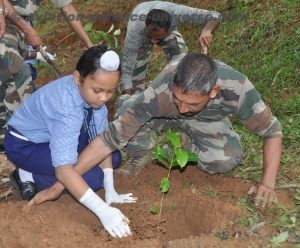 New Delhi. 17 August 2018. Assam Rifles units  all over celebrated Independence Day with gusto. 21 Sector Assam Rifles organised a series of events  with flag hoisting carried out by Cdr 21 Sect AR at Kunjaban. Motivational workshop and weapon display was organised at Teliamura and Radhanagar followed by distribution of sweets to the troops, families and students of ARPS. Assam rifles contingent also participated in State Level parade organised at Agartala.
Lokhra Battalion of Assam Rifles under 22 Sector of Inspector General Assam Rifles (East)   celebrated 72nd Independence day at Lokhra.  As a part of celebrations a football match was conducted alongwith wreath laying at war memorial and flag hoisting. An interaction with  ESM also carried out at ESM centre alongwith flag hoisting. Students of ARPS and KV was also part of celebration wherein sweets were distributed amongst them. ESMs and Students were very happy by being part of the Celebrations.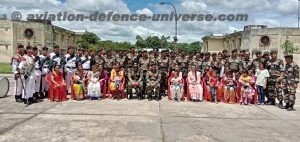 Kadamtala Battalion of Assam Rifles as part of Headquarters 22 Sector Assam Rifles under Inspector General Assam Rifles (East) celebrated 72nd Independence Day with students of Khedagarh Public School, Makha Basti . As a part of celebrations flag hoisting ceremony was conducted at Khedagarh Public School  alongwith distribution of  Sweets amongst students and staff. A total of 97 children, 5 teachers and 5 ward members attended the same. In continuation of the celebrations, a GB meet was also organised at Harinagar and Pailapool wherein 40 GB participated and brought forward issues like provision of CSD facilities for ESMs and poor condition of road and electricity in the region.Students, teachers, GB and secretaries expressed their gratitude for making them part of Independence day celebrations
Dima Hasao is one of the autonomous district out of the total 33 district in Assam. The district has rich flora fauna and abundant mineral resources in its lap. However the security situation in the past has been fragile due to ethnic divide as also intermittent insurgent activities. With concerted efforts Halflong battalion of Assam Rifles under  22 Sector of Inspector General Assam Rifles (East)  has ensured peace and tranquillity in the district by way of extensive area domination and meaningful perception management activities.
In view of the construction of the NK Danlagupu Sports Complex and ongoing NRC process the Independence Day Celebrations was conducted at Haflong Garrison under supervision of 43 Assam Rifles.The Independence Day Celebration at Haflong Garrison commenced with workshop on Coffee Plantation which culminated with plantation of 200 saplings of Coffee on 15 Aug 18. Workshop on Career Counselling pgme was also conducted for the school children of Haflong.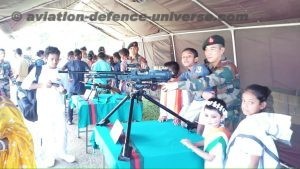 On 14 Aug 18 the district administration along with Assam Rifles distributed sweets and flags at the Town Orphanage as also at Civ Hospital and to the inmates of Haflong Jail. A grand event to pay homage to the local freedom fighters Rani Gaidinliu and Sambhudhan Phonglo was org in the town attended by all tribes, members of various Students Union & tribal Apex Bodies, Villagers, representative from Civil Administration and media persons. The annual event facilitates in bonding all tribes together under one umbrella beyond ethnic lines.
The Independence Day celebration on 15 Aug 18 at Haflong Garrison commenced by unfurling the National Flag by  Debolal Garlosa, CEM Dima Hasao followed by the National Anthem and march past by 5th AP Bn, Home Guard, NCC Scouts and Guides and various School marching contingents. CEM delivered the Independence Day speech motivating the gathering and reiterating the importance of Independence Day of our great Nation.
Thereafter cultural event were organised by locals to include tribal dance and tableau by various departments of Civil Administration were also showcased. The best marching contingents and other achievers were awarded by the CEM. The morning event culminated with the Pipe Band display by Assam Rifles.  The show stopper was Weapon display and Obstacle Course org by Assam Rifles battalion to project the positive image as also to motivate the youth to join the Armed Forces.
The star highlight of the entire event was the football match played in the afternoon session between CEM XI and Dist Adm XI, Dima Hasao, the game which is so close to the heart of local population. The Independence Day event culminated with the regalia of Beating the retreat and lowering of National Flag.
119 Inf Bn (TA) ASSAM celebrated Independence Day with great zeal and enthusiasm at Haflong and provide necessary assistance to Civ adm in conducting the event   with great fanfare at Mahur football ground. Necessary help and assistance was extended   in terms of drill instructors to coordinate and assist the marching contingents of two hundred and fifty students from five schools. Sweets were also distributed to all children of the school participating in the event. Chief guest of the event Ngamrothang Hmar, EM, NCHAC expressed gratitude towards 119 Inf Bn(TA) ASSAM for extending help in making the event a grand success.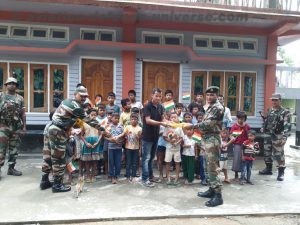 In the series of events for celebrations of 72nd Independence day, efforts Halflong battalion of Assam Rifles under  22 Sector of Inspector General Assam Rifles (East)     presented a guard of honour to pay homage to a  national freedom fighter Vir Sambhudan Phonglo on 14th August 2018 in front of statue of Vir Sambhudan Phonglo located in the heart of Haflong town.
The occation was graced by Amitabh Rajkhuwa, DC Dima Hasao, Col Sumit Sood,  Commandant 43 Assam Rifles, Prasant Saikia, SP Dima Hasao and other civil dignitaries. The Guard of honour from 43 Assam Rifles was followed by paying tribute to the statue of Vir Sambhudan Phonglo by laying wreath at the statue.The event culminated with the speech by  Amitabh Rajkhuwa, DC, Dima Hasao where he appreciated the initiative and efforts of Assam Rifles in keeping the tradition of paying homage to the martyr each year a day prior to the Independence Day.
Charduar Battalion of Assam Rifles under 22 Sector of Inspector General Assam Rifles (East) organised friendly Volleyball match between troops of 20 Assam Rifles and High School students at Bihuguri in Sonitpur District, Assam on 14 Aug 2018.
The aim of the match was to keep healthy relationship with local youths and channelising there energy for betterment of society. An interaction session was also organised after the match wherein students were counselled to plan their career progression and opt for streams and subjects accordingly to meet their aspirations. The organisation of match was highly appreciated by the  locals and Principal of High School, Bihuguri.
As a part of 72nd Independence Day celebrations, Halflong Battalion of Assam Rifles under 22 Sector of Inspector General Assam Rifles (East)  in collaboration with Coffee Board of India organised a coffee plantation drive on 13 Aug  2018 at Haflong in Assam.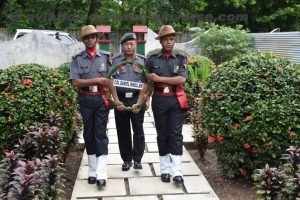 More than 50 troops along with 50 students of Assam Rifles Public School (ARPS) Haflong participated in the coffee plantation drive at Haflong Garrison based on the workshop and training conducted under the supervision of Coffee Board of India. School children along with troops enthusiastically participated in the mega event of plantation of  200 coffee saplings in the Garrison.
Serchhip Battalion of Assam Rifles under under 23 Sector of Inspector General Assam Rifles (East) conducted a lecture on National Integration at Government Higher Secondary School, Farkawn at Champhai District in Mizoram on 14 Aug 2018.  A total of 35 students attended the lecture.
The lecture was delivered with an aim to spread awareness among students about different religions, dialects and states which integrates together to form India as a single entity.  India is a multi-caste and multi-lingual country where people from different castes live and speak different languages. The people of our unique country follow the customs and traditions according to the religion they follow. The students were immensely benefitted after getting acquainted about the vast diversity and integrity about their Nation.