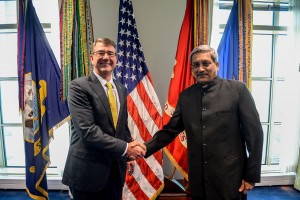 By Sangeeta Saxena
New Delhi. April 8, 2016. As Defense Secretary Ash Carter's high profile visit to India began with Defence Minister Manohar Parrikar's home state Goa, the  progress in aircraft carrier, jet fighter, and jet engine collaboration will be the cynosure of all eyes, while both the leaders will definitely have more takeaways planned than the previous meeting they had.
The US while stressing on for three 'foundational agreements' – Communications and Information Security Memorandum of Agreement (CISMOA), Logistics Support Agreement (LSA) and Basic Exchange and Cooperation Agreement (BECA)  and India pitching hard to get a 'pre-bid guarantee' from the US government on transfer of technology (TOT), if any US firm is allowed to enter into manufacturing fighters under 'Make in India', both the countries will wait with bated breath for the joint statement by the two leaders.
Defense Secretary Ash Carter  before his departure for India said, "there is so much potential with India that the United States is seizing every opportunity it can. The US is keen to forge a closer and stronger military relationship with India and a whole bunch of things will be announced to boost Indo-US strategic ties."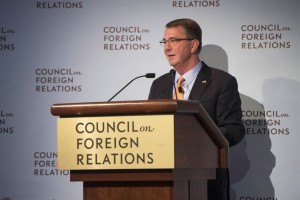 According to him the Asia-Pacific is the single most consequential region for America's future, and the United States is actively working to further strengthen its ties in the region and India is one of the most important nations for USA.
"We will discuss a large number of activities, technology projects, exercises and so forth that reflect the closeness of the U.S.-India strategic relationship," Carter told reporters after arriving in Goa today.
Defence Minister Manohar Parrikar on the sidelines of a state government function  in Goa said that India wants to establish the best defence co-operation with the US. "I am only telling you this much that many issues of importance will be finalised in the final bilateral talks in Delhi," he said.
"In defence manufacturing, we have targeted to achieve at least 20 percent to 25 percent of growth from the predicted general economic growth of 7-8 percent. We hope to achieve this in coming years through indigenisation and the 'Make In India' initiative and various other new initiatives to be started by the government. Attempt is to shift to local production which would result into lot of employment creation," he said.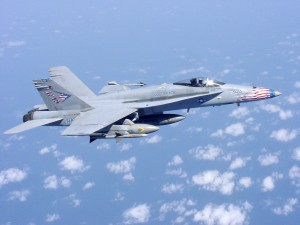 Of the three foundational agreements hopefully to be signed, the LSA  which was earlier  called the Access and Cross-Servicing Agreement (ACSA) is a standard agreement that the US has with its NATO allies and other countries like Singapore, Afghanistan, the Philippines, and Sri Lanka under which  the two sides can access supplies, spare parts and services from each other's land facilities, air bases, and ports, which can then be reimbursed. The US and Pakistan also signed an agreement in 2002, which lapsed in 2012.
The CISMOA would allow the US to provide India with its encrypted communications equipment and systems so that Indian and US higher commanders, aircraft and ships can communicate with each other through secure networks in peace and war.
The BECA would provide India with topographical and aeronautical data and products which will aid navigation and targeting. These are areas in which the US is very advanced and the agreement could definitely benefit India.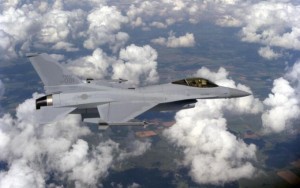 In December last year at the joint statement issued after bilateral talks between Parrikar and Carter at the Pentagon India and the US had committed to identifying additional projects for possible co-development and co-production of high technology items that meet the transformation intent of their Defence Technology and Trade Initiative (DTTI). When asked to name these new items for co-development and co-production , Parrikar said he would prefer to do it first and then talk about it. One hopes he will name some at the forth coming joint declaration in Delhi.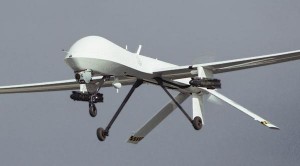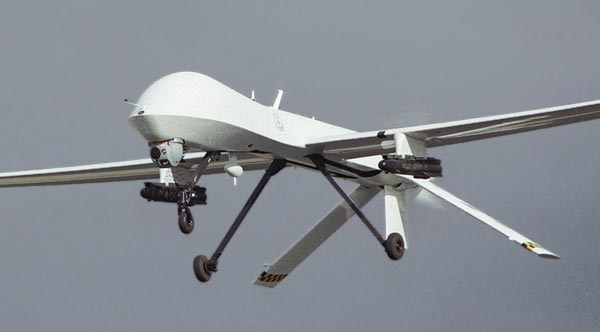 Boeing said it was in talks with India about the possibility of making F/A-18E/F Super Hornet aircraft in India, Lockheed Martin wanting to set up a final assembly line for F 16 ,India's request for 40 Predator surveillance drones, another request for EMALS for the IAC2 and pending for signature Apache and Chinook and ofcourse not to forget the M777, India -US have a lot on their plate to be cleared. Lets hope some development on any of these fronts are announced.
 The world watching this visit keenly feels that  U.S.-India relationship is a "strategic handshake," one that is "destined" to be among the most significant partnerships of the 21st century.