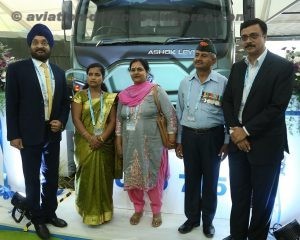 11thApril, 2018, Chennai: Ashok Leyland, flagship of the Hinduja Group and the largest suppliers of logistics vehicles to the Indian Army, today showcased six advanced-technology products and solutions at the ongoing DefExpo India 2018.These products were unveiled by Smt. Mahadevi Bilebal, W/O Late Lance Nayak Hanumanthappa Koppad, who was posthumously awarded the Sena medal, and Veer Chakra Hon Capt Raghunath Singh.
Ashok Leyland has been at the forefront in serving the nation by partnering with the Indian Army for its logistics needs. Following its philosophy of 'Aapki Jeet, Hamari Jeet', and a resolve to contribute to the nation's security, Ashok Leyland has made significant investments in-house to develop the next generation of world-class mobility solutions and technologies for the country's armed forces.
Speaking on the occasion, Mr. Vinod K. Dasari, MD, Ashok Leyland, said, "We have been an integral part of our nation's Defence operations and we continue to evolve as a trusted partner in providing end-to-end solutions in the area of mobility." This year's DefExpo focus is to showcase India as a major hub of defence production in the world. Ashok Leyland is proud to be leading in this area for almost three decades and we plan to be at the forefront of designing and making in India by expanding our range of vehicle and technology solutions offering. We have developed capabilities which will help us to bid for 20-25 per cent of the tenders of the Indian Army as against less than one per cent earlier."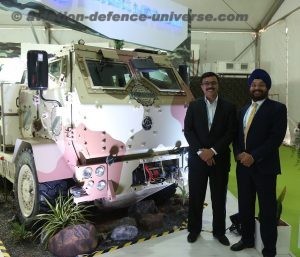 Sharing his views, Mr. Amandeep Singh, Head – Defence, Ashok Leyland, said, "Our strong focus on in-house R&D and strategic partnerships with global defence suppliers has helped us develop the next generation of mobility solutions for our defence personnel and equipment. With the new generation vehicles and solutions, we are further extending the trust our army has in us. Known for robustness, endurance and latest technology, these offerings will help us expand our defence business multi-fold in the coming years. We are proud of having won 31 tenders in the last 2 years and this alone will result in cumulative revenues of over Rs 5000 cr, over the next decade."
The products showcased are
LSV: Light Specialist Vehicle 4×4 is a versatile platform developed specifically for specialist applications such as Reconnaissance, Quick Response & Patrol and counter-insurgency operations. It is designed for all-terrain mobility, armored protection, fire power for operating independently in the battle field. It is the only vehicle, bullet protected on all four sides.
Guru 715: General Service logistics application for Paramilitary forces and International market, often operating in narrower, more unpredictable conditions, Guru brings value to a wide and growing range of logistics applications including troop and load carrier, medical ambulance and as a vital addition – Ultra-Light Recovery Vehicle.
MBPV: Medium Bullet Proof Vehicle 4×4, developed by Ashok Leyland for the Ministry of Home Affairs, India, to support the counter insurgency operations. It is already in operation with Police forces in Jammu &Kashmir and Punjab.
Super Stallion 8×8: It is a High Mobility Vehicle, inducted by the Indian Army. Ingrained with the same DNA of dependability that the Stallion is known for, the Super Stallion emerged as the most preferred platform, in Special Service and Combat Support logistic vehicles. This vehicle has already replaced vehicles which were earlier imported by Indian Army.
Power pack for artillery guns: Artillery Gun System is a self-propelled gun system with last mile mobility of the gun for positioning before firing. Powered with Ashok Leyland H Series engine and associated subsystems like air intake, exhaust, cooling, fuel system and driver controls is custom built to suit the different types of guns used by the Indian Army.
Tracked vehicles: Repower and Upgrade Solutions for tracked vehicles like BMP, T-72 and T-90 Tanks. Mobility Solutions for FICV. All with 100% indigenously designed, developed and manufactured Engines.