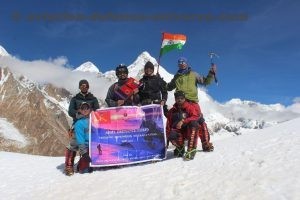 New Delhi, 09 Oct 2017.  Mountaineering activities form an essential ingredient for developing self-reliance and confidence. Such activities inculcate qualities like confidence, camaraderie, mental robustness, physical fitness and the ability to take decisions in the face of adversities.
 In continuance to the revered tradition of the Army Ordnance Corps, a 'Trekking Expedition to Traill's Pass' was organized by AOC Centre, Secunderabad, under the aegis of Southern Command in September 2017. Traill's Pass (5400m) is a high altitude pass in Nandadevi National Park (Kumaon Region) which joins the Milam and Pindari Glaciers. It is considered to be one of the most venerated as well as challenging trekking expedition in the Indian Himalayas.
A team of two officers, one JCO and 12 OR, led by Maj Chirag Chatterjee was flagged off by the Commandant, AOC Centre at Secunderabad on 07 Aug 2017. After a brief period of training and acclimatization at Dharchula, the team started the arduous expedition on 05 Sep 17 from Loharkhet in Bageshwar district of Uttarakhand. The team finally hoisted the tricolors on Traill's Pass at 0940 hours on 19 Sep 17 and successfully completed the expedition on 22 Sep 17 upon reaching Munshiyari. Thus, becoming the sixteenth team in the world and first amongst the Indian Armed Forces to achieve this feat.
The team was Flagged In by the DGOS at IHQ (MoD) on 28 Sep 2017.