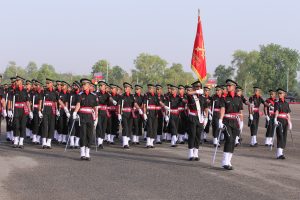 By Col NB Saxena
New Delhi. 11 Jun 2016. General Dalbir Singh, Chief of Army Staff reviewed the 9th Passing out Parade of Officers Training Academy held on 11 June 2016 in which 92 Gentleman Cadets of the Technical Entry Course Serial 27 along with 46 Special Commission Officers of Course Serial 36 got commissioned into the Indian Army.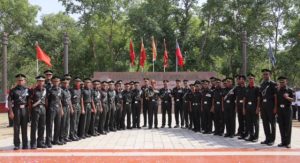 Another 53 Gentleman Cadets of Technical Entry Scheme Serial 33 also proceeded to various engineering colleges of the Army to pursue their engineering degrees from Military Engineering Colleges at Secunderabad, Mhow and Pune. The Reviewing Officer was received at the venue by Lieutenant General Vinod Vashisht,  Commandant, Officers Training Academy (Gaya).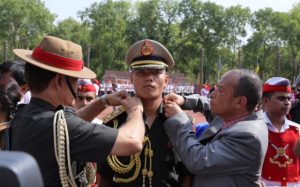 The Reviewing Officer was accorded a salute by the parade followed by an impressive March Past after which he gave away various awards to the Gentleman Cadets who had excelled in training. The prestigious Sword of Honour for best overall performance among TES 27 Course was awarded to Gentleman Cadet Pankaj Mehara.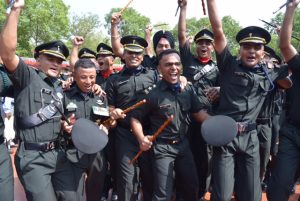 General Dalbir Singh, congratulated the Gentleman Cadets for their excellent standard of turnout and drill. He also stressed on the virtues of military ethos which they should imbibe to make themselves good leaders. While congratulating the parents, the Reviewing officer said that they were fortunate since their sons will get the opportunity to serve in one of the noblest professions in the world.
The parade culminated with the Passing Out Course stepping on the  'Antim Pag' ('Final Step')  after which they were administered the oath by the  Adjutant of the Academy.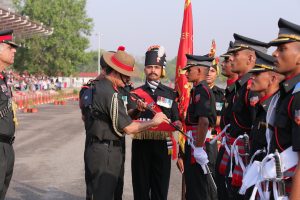 As a prelude to the Passing Out Parade on 11 June 16, a Multi Activity Display showcasing various aspects of military training imparted to the Gentleman Cadets, coupled with interesting acts of combat skills was showcased. The event included show jumping, fly past in microlight aircrafts, gymnastics and Physical Training display amongst many such activities.  An entertaining 'Pyro-technique' display was the show-stopper, bringing the curtain down on the display.