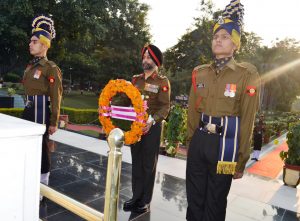 Chandimandir.  08 December, 2016. Army Service Corps celebrated its 256th Corps Day at HQ Western Command Chandimandir.  In its long cherished history, the Army Service Corps has displayed exceptional versatility, indomitable spirit and commendable ability to keep pace with the changing operational scenarios.  The Corps has strived hard to achieve the highest standards in the field of logistics.
The ASC is responsible for provisioning rations, petroleum products and transport support to formations across the country.  It has consistently evolved and emerged as a modern, information-technology savvy and network-centric organisation catering to the ever changing strategic and operational environment.
To commemorate this day, various events were organized at Chandimandir. ASC veterans also wholeheartedly participated in these events.
Lt Gen Surinder Singh, AVSM, VSM, General Officer Commanding-in-Chief, Western Command extended his greetings to all ranks, civilian employees, their families and veterans  of the Corps on this day and  commended the professionalism displayed  by ASC personnel towards discharge of their duties, both during war & peace.
On this momentous occasion, Brig SS Randhawa, VSM of Western Command laid a wreath at Veer Smriti, Chandimandir along with other serving personnel and veteran of ASC.
"We salute our martyrs on this solemn occasion for their selfless and supreme sacrifices, " said Brigadier SS Randhawa while addressing the gathering. The ASC fraternity resolved to continue the march towards excellence in all the fields with utmost professionalism, devotion to duty and above all the will to enforce latest technologies for greater efficiency.