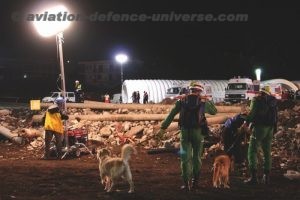 Paris. 11 June 2018. The Airstar group, major European player in designing and manufacturing tethered aerostats and global leader in mobile lighting balloons for the defence and security industries, is exhibiting all solutions dedicated to air-land security and defence activities proposed by its two entities, Airstar Aerospace and Airstar Light. 
The complementary nature of Airstar's solutions, with the Airstar Aerospace range of tethered balloons dedicated to surveillance, observation and telecommunication missions, and the Airstar Light range of lighting balloons prime for various applications such as police check points, military camps, logistics and emergency responses is the highlight of the displays. 
Romain Chabert, CEO of Airstar Aerospace, explains: "Because of their duration or stationary requirements, some missions cannot be carried out by traditional drones or aircrafts. Our tethered balloons provide the nations and professionals in the industry with the necessary equipment to carry out persistent missions that can extend over several months, while being economically and logistically competitive". 
Capable of carrying payloads ranging from 5kg (for the White Hawk), to 250kg (for the Condor), these tethered balloons are able to carry all types of sensors such as EO/IR camera, and relay antenna. This process aims to transmit reliable and indispensable information for decision-making to the ground. Armed and International Security Forces are then able to benefit from Airstar lighting balloons, which can quickly and effectively light an area. The Airstar Group's double stand is demonstrating this complementarity. 
Airstar has also unveiled its new Sirocco LED 75000 lm lighting balloon, dedicated to safety. Ultra-mobile and fast to install (2 min), this balloon is able to light an area ​​up to 3640 m² with a power consumption of only 600 W. It has six independent LED modules of 100 W, thus minimizing the risk of "blackout" during a mission or an operation.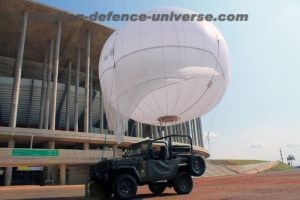 With a lifespan of 50,000 hours and the capability to light up an area up to 22,500 m², the Sirocco range is particularly suitable for emergency and occasional lighting situations, as explained by Nicolas Berfini, industry market manager at Airstar Light. "A large number of military and security organizations around the world are now benefitting from the homogenous lighting of these balloons, with 360° diffused light, glare-free and without drop shadow." 
Sirocco balloons were notably used during the September 11 attacks in New York, and more recently to facilitate the rescue and allow the search of victims by night right after the earthquake in Mexico City in September 2017. In the military field, the the Israeli Defense Forces, IDF, has recently trusted Airstar Light for emergency operations.