By Sangeeta Saxena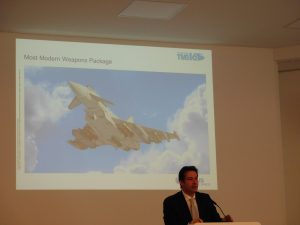 Ottobrunn, Germany. 23 June 2016. Twenty years ago Apple, Orange and Blackberry were fruits today they are measures of success and growing technology, in whatever be the field and wherever be the arena. And the world of military aircraft is no different.
"In a world where total defence procurement budget is  more than 400 billion Euros per year with an annual growth of 2.4% out to 2020, the next 10 years, military opportunities include approx. 150 heavy transport aircraft, 85 tanker aircraft, 750 combat aircraft, and 350 mission aircraft, the more competition we will get, the more we will have to fight for new markets," reiterated  Jean Pierre Talamoni, Head of Sales & Marketing, Airbus DS.
Interestingly speaking on  India and its "Make in India"chant, Talamoni feels,  "Ruled fixed by Prime Minister Modi is an interesting concept. Though  we have to be careful e have decided to adapt. You need a factory producing but we also need to have a supply chain. The vision is good but it needs to expand to creating an ecosystem. Also 49% doesn't make sense. 50% should be the right percentage to parcipate in. You cannot build anything on something dis-balanced."
Speaking of the business in the defence procurement market, Talamoni informed  that of the  4,250 billionEuro 25% of procurement budgets are for aircraft , 21% to space systems, C4I, missiles, and UAVs, and the remaining 54% to other requirements in the timeframe 2016-25. A large part is coming from the ASPAC (6%), Europe, without France, Germany, the UK, and Spain (2%), who make up their own market growth-share (1%), and the Middle East (3%) and Latin America (2%).
To third  of new Military Aircraft Opportunities are in Asia and Middle East.  In the next 10 years, opportunities in this market ill include nearly 150 heavy transport aircraft, 85 tanker aircraft, 750 combat aiircraft, and 350 mission aircraft. "Russia, Japan, and Embraer are up-and-coming competition . With an already existing surplus of C130s the A400M will kill the C-130,' said Talamoni optimistically.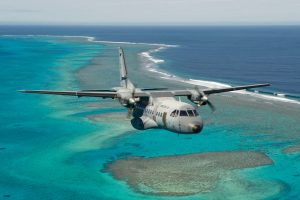 C295 is a success story which speaks for itself he felt.  168 aircraft sold, 25 operators in 23 countries with 11 repeat orders and 250 000+ FH accumulated where  the fleet leader has accumulated more than 4000. Successfully proven in remote areas with minimum support and high rates of utilization, 60% market share is a morale booster for any aircraft manufacturer.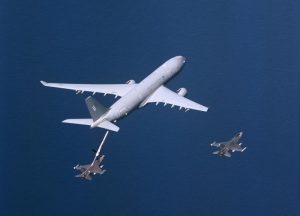 Airbus DS has  captured  a 85% market share in the coming decade in the tanker segment  -not including future programmes to complete US fleet renewal. "Soon we will launch good news about Poland, Luxemburg, and the Netherlands," he said. 27 A-330 MRTTs have so far been sold to different customers. With India e are expecting the things to move soon.  7 nations – 49 Firm Ordermakes it a truly International Tanker," he said.
Despite adverse publicity and hiccups in the A400M programme ,  the aircraft has seen military operations with France, Germany, Turkey and UK. "We have an aircraft that is perfectly suited for today's crises, able to land everywhere. The competitive advantage of A400M is  transport of 13 tonne  payload to Antarctica and returns with no need to refuel," he informed.
Talamoni informed that, "despite the capability of the Eurofighter TYPHOON, today we are facing serious competition in Europe with the F-35. EUROFIGHTER is the plane that should protect Europe in the future. We will lose engineering capabilities here, with technology going as fast as it does." Eurofighter constitutes the trusted security backbone of 6 nations with over 340,000 flying hours , an availability rate  of more than 99% in ongoing Baltic air policing missions and Middle East operations, engaged in many campaigns in Belgium, Finland, countries in Middle East and Asia and 478 aircraft delivered to 6 customers.
"Our DNA is CSI (Customers, Services, and Innovation). If we have customers  we will keep them. Airbus is looking to maintain its market-leading sales position. World is becoming global and competition is becoming global too, " ended his tete-e-tete with the journalists at  Trade Media Briefing 2016 in Germany.